SMART Transportation Division Alternate Vice President and General Chairperson Anthony Simon and eight New York state senators took the CEO and chairman of the New York Metropolitan Transit Agency to task for planned service reductions for the Long Island Rail Road (LIRR).
The carrier plans to reduce weekday service to the equivalent of a weekend schedule beginning March 8, a move described by state Sen. James Gaughran and seven colleagues as operating LIRR as a "skeleton service."
"We urge you to reconsider this decision and withhold implementation of the planned service reduction," the senators wrote in their letter, dated March 3. "These ridership cuts will negatively impact countless essential workers, like the workers of the MTA, who rely on public transportation to earn a living, support their families, and contribute to our economy."
In his letter dated Feb. 24, Simon communicated to MTA Chairman and CEO Patrick Foye that this course of action also did not seem to be a sound strategy as a potential spring economic awakening for New York City appears to be approaching.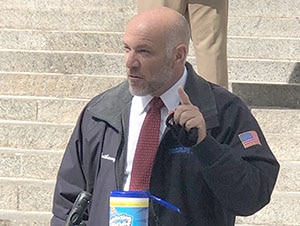 "While the MTA should be incentivizing customers back to the system, why would we choose now to reduce service further?" wrote GC Simon of GCA-505, which represents SMART-TD members employed by LIRR. "It makes no sense that riders should now have to return to a system with limited service opportunities and potential concerns for safe distancing capabilities when vaccine availability is improving and both federal and state leaders are attempting to stimulate the economy."
The service reductions were supposed to last only until particular projects were completed by LIRR but could now be extended past the May 23 date that LIRR had given, according to Simon.
Both Simon and the senators made special note that SMART-TD members have worked through the pandemic, risking infection by COVID-19 as they continued to serve on the front lines of public transport. Simon argued in his letter that federal funds provided by the Biden administration should be used to maintain service to LIRR riders to ensure they have substantial service and a safe environment.
"Our members have weathered the effects of this pandemic as the heroes you've gratefully declared them to be time and time again. They have delivered to the riding public through some of the most difficult times in the history of our railroad," Simon wrote. "Now is the time for them to continue delivering by leaving the adjusted weekday schedule as is and not seek a limited savings opportunity by creating a disincentive for our customers to come back."
Read the senators' and Simon's letters. (PDF)