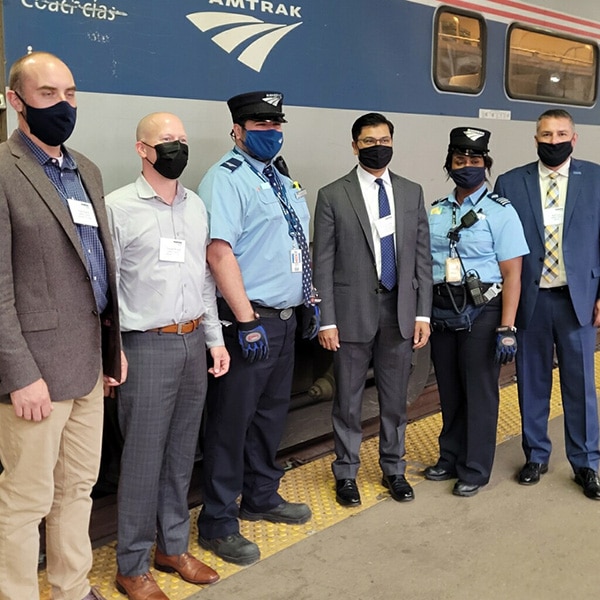 Federal Railroad Administration (FRA) Deputy Administrator Amit Bose's nomination by President Joe Biden to become administrator of FRA was advanced Oct. 20 by the U.S. Senate's Commerce, Science and Transportation Committee.
Along with Bose, the nomination of Meera Joshi to be administrator of the Federal Motor Carrier Safety Administration (FMCSA) also was advanced to the full U.S. Senate by a 22-6 committee vote. A timetable for the full Senate to consider Bose's and Joshi's nominations has not yet been set.
In related news, Bose was a passenger Oct. 13 aboard the Amtrak Wolverine route from Chicago to Detroit with three SMART Transportation Division state legislative directors and also appeared at a news conference at Chicago's Union Station as the Midwest Interstate Passenger Rail Commission (MIPRC) unveiled its 40-year Midwest Regional Rail plan.
"Looking all the way through 2055, the plan addresses key corridor and investment priorities, potential funding strategies, and necessary governance structures identified by the states working with MIPRC," Bose said. "While America's interstate highway system and commercial aviation industry are vital and indispensable, rail can and does play a key role in our multi-modal transportation system," Bose said. "Nowhere is that more evident than Chicago, the nation's rail hub."
SMART-TD Illinois State Legislative Director Bob Guy, chairman of the commission, as well as Michigan SLD Donald Roach and Minnesota SLD Nick Katich, all spent time with Bose during the trip before MIPRC began its three-day-long meeting.
"It was wonderful to be able to spend time with Deputy Administrator Amit Bose while he was in Chicago and on the train to Detroit as part of the MIPRC annual meeting," Guy said. "It's clear that he is very aware of our serious concerns and frustrations with the previous FRA hierarchy, but his openness, communication and availability to our members and our leadership are a testament to his priorities and provides a glimpse into how he values SMART-TD's input on issues affecting our members."
Bose also was a guest on the SMART-TD National Legislative Office's monthly Zoom call Oct. 11 where he discussed concerns brought up by both national and state officers.
A full recap of the wide-ranging discussion that Deputy Administrator Bose had with SMART-TD officers will be published in the next edition of the SMART-TD News.