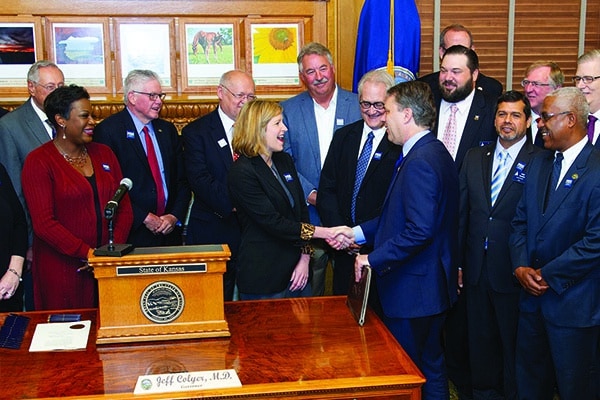 Kansas State Legislative Director Ty Dragoo reported that the hard work of his legislative board has paid off with the Kansas Legislature passing and Republican Gov. Jeff Colyer signing May 16 the House Substitute for SB 391, establishing the Joint Legislative Transportation Vision Task Force.
"We would like to take this opportunity to thank all those legislators who supported this important step to building a vision for transportation in Kansas with labor at the table," Dragoo said. "We greatly appreciate the assistance of all of those that voted in favor to pass the task force legislation."
The task force's purpose is to evaluate the current condition of the Kansas transportation system; solicit local input on projects; evaluate current uses of the state highway fund; evaluate current transportation funding and determine whether funding levels are sufficient for current and future needs; identify additional necessary transportation projects; make recommendations regarding the needs of the state's transportation system in the future; and make recommendations on the future structure of the state highway fund as it relates to maintaining the state's infrastructure.
The bill also includes a list of organizations, including SMART Transportation Division and the AFL-CIO, that will sit on the task force and help to formulate a 10-year plan for the state's transportation system.
"SMART TD looks forward to being a part of providing the task force with the critical information that they will need to build a vision for the future of the infrastructure system in Kansas," Dragoo said. "This is the first time in our board's history that our union will be recognized and enshrined in Kansas statute as a stakeholder in transportation planning for this state.
"Brothers and sisters, that is not by accident. That is our hard work paying off."
A PDF of the final version of the bill is available on the Kansas State Legislature website.