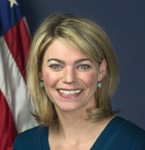 The following is a written statement by FRA Acting Administrator Sarah Feinberg.
Can one of the nation's newest, fastest-moving industries help to solve one of transportation's oldest problems? At the Federal Railroad Administration (FRA), we think the answer is yes. That is why we are proud to announce that Google has agreed to partner with us to make rail crossings safer for drivers and their passengers.
Google has agreed to integrate FRA's GIS data, which pinpoints the location of the nation's approximately 250,000 public and private railroad crossings, into its mapping services. Adding railroad crossing data to smartphone mapping applications just makes sense – it means supplying drivers and passengers with additional cues that they are approaching a crossing.
For drivers and passengers who are driving an unfamiliar route, traveling at night, or who lose situational awareness at any given moment, receiving an additional alert about an upcoming crossing could save lives. We know that more and more drivers today use map applications on smartphones to guide them to their destinations. While mobile device maps and applications are trusted sources for directions and guidance, many of them do not notify drivers when they are approaching a rail crossing, or do not identify the rail crossing at all. When drivers are alerted or reminded that there is a rail crossing ahead, they may be more likely to remain alert, use greater caution, and obey the signal crossings.
From the very beginning of his tenure, Secretary Foxx has pushed all of us to do more to integrate technology to raise the bar on safety across all modes of transportation. This partnership, which will allow us to do just that, is an important development. Secretary Foxx and I are incredibly grateful that Google has quickly agreed to work with us, and we are hopeful that other tech companies that develop map applications will join us too.
Last year, approximately 270 people died in highway-rail collisions that were largely preventable. This is the first time this decade in which that number has actually increased from the previous year. We can—and should—do everything possible to end vehicular-train incidents at rail crossings. With Google and other tech companies' help, I'm confident that we can achieve this goal even faster.
Not long after I arrived at FRA, I promised a fresh look at how to prevent grade crossing accidents. The key so far has been in our partnerships – with local police, to increase enforcement actions; with Operation Lifesaver[external link], to help educate people about the risks; and now, with Google, to help with driver awareness through smarter engineering.
At FRA, we'll continue to build more of these dynamic partnerships – because we must do everything we can to reduce grade crossing accidents that far too often have tragic consequences.