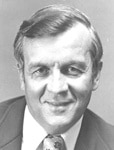 Former UTU Vice President George J. Cahill, 85, died June 3 after a courageous battle with cancer.
A member of SMART Transportation Division Local 1978 at New York and the former Brotherhood of Railroad Trainmen Lodge 328, Cahill began his railroading career as a crew caller on New York, New Haven and Hartford Railroad in 1944. He became a mailroom clerk and later worked as a baggageman and brakeman. He became a ticket collector in 1952 and a passenger conductor in 1954. Before being elevated to the office of UTU International vice president, he served as a general chairperson from 1958 to 1976.
Cahill served in the U.S. Marine Corps and was an alderman from the City Point neighborhood of New Haven, Conn. He was appointed a member of the Connecticut Transportation Authority by Gov. John Dempsey and was appointed chairman of the Connecticut Public Transportation Authority by Gov. Ella Grasso. He was one of the 84 delegates of the Connecticut Constitutional Convention that revised the current Connecticut Constitution in 1965.
He is survived by his wife of 64 years, Sally Tracey Cahill, his sons, George (Jackie) Cahill Jr. of Branford; Robert (Isabelle) Cahill of Uxbridge, Mass.; Stephen (Gina) Cahill of Hamden; Michael (Sandra) Cahill of Guilford; and his daughter Kathleen (Andrew) Omicioli of West Warwick, R.I. In addition, he is survived by his sister, Ann Marie Eaton, 16 grandchildren and 12 great grandchildren.
Cahill's friends and family will leave the W.S. Clancy Memorial Funeral Home, 244 North Main St. in Branford, Conn., Friday morning (June 6) at 9:30 a.m. for a Mass of Christian Burial in St. Mary's Church at 10:00. Burial will follow in St. Agnes Cemetery in Branford. Friends may call June 5 from 4 to 8 p.m. at W.S. Clancy Memorial Funeral Home. For more information, visit www.wsclancy.com.