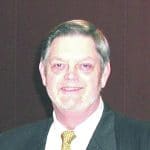 Former Kansas State Legislative Director Donald F. Lindsey Jr., 67, died surrounded by his family Aug. 20, 2015 at the University of Kansas Medical Center. Lindsey fought a long battle with cancer since his first diagnosis in 1995.
Lindsey served in the United States Army Reserves from 1967 until 1973 and received an honorable discharge.
Lindsey hired out with Missouri Pacific/Union Pacific in 1966 as a conductor and had more than 43 years of railroad and union service upon his retirement. He served his union as secretary and treasurer for Local 533 (Osawatomie, Kan.) for 40 years as well as legislative representative and delegate for 21 years. Lindsey also was elected Kansas state legislative director for six consecutive terms from 1988 until his retirement in 2010. He also served as the UTU representative for BNSF System SACP, serving on two subcommittees. Upon his retirement, Lindsey became a member of the UTU Alumni Association.
"Don was a leader in Kansas politics and will be sorely missed," Kansas State Legislative Director Ty Dragoo said. "His work and fight for the labor movement will never be forgotten."
Lindsey enjoyed membership with the Eugene V. Debs Foundation, Osage Valley Lodge 24 AF & AM in Osawatomie, Kan. and was a life-member of the International Supreme Council, Order of DeMolay.
Lindsey is survived by his wife Judy; two daughters, Suzanne Barbour and Ericka Hart; two sisters Pam Cook and Cheryl Meinig; brother Steve Lindsey; five grandchildren and many nieces, nephews, relatives and friends.
Visitation for Lindsey is set for Tuesday, August 25 from 1:00 p.m. – 3:00 p.m. at Lenexa Baptist Church, 15320 W. 87th Pkwy, Lenexa, KS 66219. Funeral services will immediately follow at the church.
Memorial contributions may be made to the Miami County Cancer Foundation and sent in care of Penwell-Gabel Funeral Home, 605 O'Neal Ave., Osawatomie, KS 66064.
Click here to leave condolences for the family.