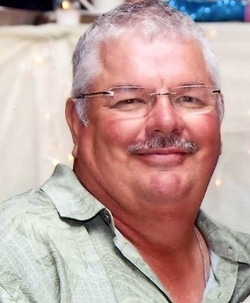 Donald L. Allard, 55, of Minot, N.D. died Tuesday, June 9 in a Minot hospital. Allard (L-1059 of Minot, N.D.) was a BNSF brakeman and long-time local chairperson and delegate. He also served as assistant general chairperson for GO 386 from 2003 to 2015. He originally hired out in September of 1979 as a brakeman, having 36 years of service at the time of his passing.
SMART TD National Legislative Director John Risch says, "Don was a leader in our Minot local for years as well as a long-time delegate. He was a good, good friend who died too young. We are all saddened by his passing and extend our heartfelt condolences to his wife, Mary, and to his family. He will be sorely missed."
Allard is survived by his wife of 35 years, Mary; children, Trisha (Jason) Wuori, Dale (Amanda) Allard and Donald "D.J." Allard. He's also survived by his grandchildren; parents – Allen and Linda Allard; and two brothers – Bob and Ron (Stacey) Allard.
Visitation for friends and family will be June 15 from 4:00 p.m. to 7:00 p.m. at the Thompson-Larson Funeral Home Chapel, 21 Third Avenue, SW, Minot, N.D. A vigil prayer service immediately follows. A Mass of Christian Burial will be Tuesday, June 16 at St. John The Apostle Catholic Church. Burial services will be held at Rosehill Memorial Park June 19 at 1:00 p.m.
Friends can leave condolences at Thompson-Larson Funeral Home website.