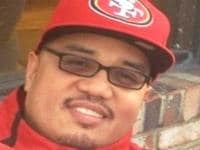 Henry L. Dacanay Jr., 46, president of SMART Transportation Division Local 1732 at San Jose, Calif., died Nov. 14 following a heart attack.
Dacanay worked for Amtrak as a conductor for 19 years. Besides serving as local president, he held various other positions including local vice president and local chairperson.
In his downtime, he was a supporter of the San Francisco 49ers, the Warriors and Giants. He also had a love for music, movies and electronics.
He is survived by his wife of eight years, Rosie; four children: Kayla, Kiana, Dominic and Andrew; his parents, Henry Sr. and Rosie; two sisters and a brother.
The family will receive friends Nov. 21 from 4-9 p.m. and at a vigil at 7 p.m. at Duggan's Serra Mortuary, 500 Westlake Ave. in Daly City, Calif. Funeral services will be held Nov. 22 with a mass at 10 a.m. at All Souls Church, 315 Walnut Ave. in South San Francisco. Burial will follow at Holy Cross Cemetery, 1500 Old Mission Rd. in Colma, Calif.
In lieu of flowers, the family has requested that donations be made to Citibank, NA: In Trust For Rosie Dacanay and the family of Henry Dacanay Jr.