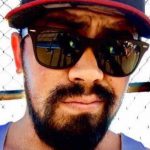 Just after midnight on April 11, BNSF Railway LCA Secretary and Local Trustee Carlos Barela sustained life-threatening injuries while switching in the Belen Yard in New Mexico.
Local 1168 Local Chairperson Tanner Griffitt and other local chairpersons have organized a GoFundMe account on Barela's behalf. The page states that due to the severity of his injuries that Brother Barela may never be able to work or provide for himself or his family again.
Click here to visit the GoFundMe page.