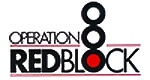 Robert "Bobby" Bonds, 61, long-time Amtrak Operation RedBlock director and a 39-year Amtrak employee, died Oct. 29, 2015.
Bonds had committed his life to Operation RedBlock, a labor-developed, management-adopted drug-and alcohol-prevention/intervention program begun more than 30 years ago to provide assistance to thousands of union brothers and sisters on various railroads.
A featured speaker at the SMART 2015 Business Agents' Conference, Bonds believed in the concept of peer involvement to prevent employee use of alcohol and drugs while on duty or subject to call. Nationally recognized as a leader in crisis intervention, he trained more than 25,000 lay-professionals, volunteers and mental health professionals in the U.S. and Europe to deal with workplace and family crisis interventions.
Bonds was a trustworthy friend to many, known for his strong leadership, his ability to bring people together, and his positive outlook on life. Those who knew him best describe him as a man of character, a model of competency, determination and integrity.
Bonds is survived by his wife, Ronna; four children, his mother and brother.
Services were held Nov. 1, 2015, in Philadelphia, Pa. Contributions in his memory can be made to the Main Line Health Home Care and Hospice Foundation, 240 Radnor-Chester Rd., Radnor, PA 19087, or the Lung Cancer Alliance, 1700 K St. NW, Ste. 660, Washington, DC 10006.
Operation RedBlock provides education, counseling, references for treatment, and a mechanism for employees to mark off without reprisal if impaired when called for work. The program aims to change attitudes, reduce the tolerance of nonusers to job-related drug and alcohol use, and encourage users to seek assistance.
Click here to view Bonds' obituary or to leave condolences.