Officers and members of SMART Transportation Division General Committee of Adjustment GO 505 on the Long Island Rail Road Dec. 18 delivered a $5,000 check to support a program for autistic children in the Town of Islip, N.Y.
The donation adds to the committee's yearly commitment to autism services in the local community, which it is proud to serve with reliable and safe transportation.
As reported earlier this year, GO 505 sponsors a golf outing annually to raise funds for Autism Speaks and autism services in Long Island, N.Y. Autism Speaks is a leading autism science and advocacy organization dedicated to funding research into the causes, prevention, treatments and a cure for autism.
While supporting research to assist in the continued efforts to aid families affected by autism, SMART leadership of the committee was determined to set additional funds aside to give to families in the local community, General Chairperson Anthony Simon said.
Simon, Vice General Chairperson Vinnie Tessitore and Local Chairperson Michael Denn met with Town of Islip Councilman Anthony Senft Jr. to learn about a new program in the community called Inclusive Sports and Fitness (ISF). The program, founded and managed by Alexander Lopez, utilizes mentoring and therapeutic principals inherent in sports to foster positive personal, social, and physical growth in an inclusive way for all children.
"On behalf of our railroad union members, we are pleased to assist in getting this program expanded to assist more children in our community. SMART members are proud to give back to the neighbors we serve," Simon said.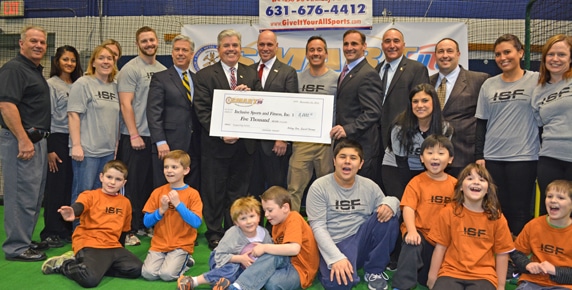 SMART Transportation Division GO 505 officers Anthony Simon, Vinnie Tessitore and Michael Denn
present a check to Alexander Lopez, with the support and appreciation of Suffolk County Executive Steve Bellone and Town of Islip Councilmen Senft and Flotteron. Also pictured are Inclusive Sports and Fitness volunteers and children enrolled in the program.