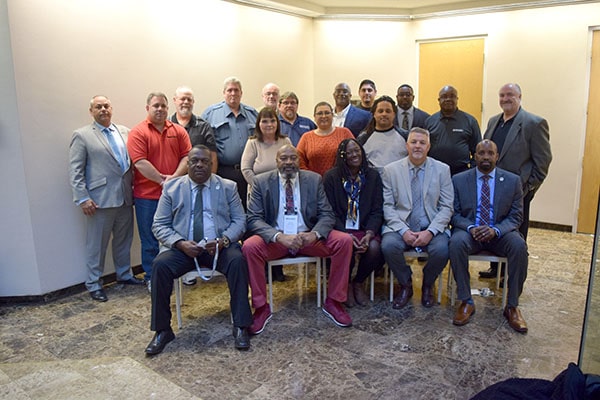 The Association of General Chairpersons — District 3, consisting of the general chairpersons in the SMART Transportation Division Bus Department, chose new leadership Nov. 12 and discussed initiatives put forth over the summer at the SMART General Convention by the SMART Transit/Bus Committee.
Elected to lead District 3 at the conclusion of the meeting were Chairperson Tonette Nixon-Pray (Local 172, Darby, Pa.); Vice Chairperson Erskins Robinson (Local 1785, Santa Monica, Calif.); and Secretary Tom Pate (Local 1081, Glendale, Ariz.).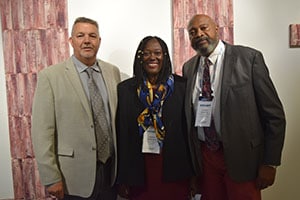 TD President Jeremy Ferguson took questions from the 16 GCs in attendance and laid out some of the initiatives that the union will be focusing on in the coming months under his administration. Among those discussed by President Ferguson were intensified efforts at organizing, the establishment of a Bus Safety Team and improving accessibility to educational offerings.
"We need more boots on the ground," he said, and changes to the Organizing Department to enhance its power will be made after the first of the year. "We'll have more organizers out there that can work not only on getting new properties but helping existing properties where they need help."
Chief of Staff Jerry Gibson said that the TD office will collect as much information as it can of incidences that put members working in bus and transit service to document at risk in the run-up to the establishment of a Bus Safety Team, and that nominations of safety-oriented TD members will be sought to serve on that team.
"If you're going to talk the talk, then walk the walk. I expect you to be active, and those are the type of people we're looking for to be involved," Gibson said.
President Ferguson also pledged increased responsiveness and support to the general chairpersons' concerns as the organization defends its membership and the SMART Constitution.
"We want to give you every tools — all the support you can get. You have my support, all my vice presidents and the staff," Ferguson said. "You also have the state and national legislative department. You also have the Legal Department … Reach out. We're here."
Some of the support will come in increased educational efforts, he said. In addition to the annual regional meeting that the union puts together, more "mini-regionals" involving multiple locals will provide guidance on how to run local meetings, represent members and maintain local financial records will be held around the country.
"We're going to start branching out and doing more of that," Ferguson said.
Legislative directors from the states with bus general committees also attended the meeting in a show of solidarity.
Additional details about steps to be taken by the Bus Department going forward will be discussed by Vice President — Bus Calvin Studivant in a future edition of the Transportation Division News.