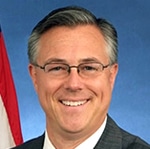 Federal Railroad Administrator Joseph Szabo addressed members of the House Committee on Transportation and Infrastructure's Subcommittee on Railroads, Pipelines, and Hazardous Materials Feb. 26, providing them with oversight of passenger and freight rail safety and responding to questions.
Also addressing the subcommittee were Sen. Richard Blumenthal (D-Conn.), U.S. Rep. Kevin Cramer (R-N.D.) and Cynthia Quarterman, administrator of the Pipeline and Hazardous Materials Safety Administration.
To read Szabo's remarks, click here.