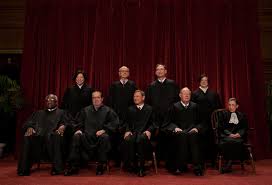 Supreme Court Justices heard from SMART outside General Counsel Richard McCracken on behalf of UNITE HERE Local 355, which is defending the legal status of neutrality agreements in front of the US Supreme Court.  The union agreed to help win a gambling ballot initiative legalizing slot machines at racetracks, and agreed not to picket, boycott, or strike. Mardi Gras officials agreed to give the union employee addresses, access to the facility and not ask for a secret ballot election on unionizing as a condition of the agreement, which has been an accepted practice in the United States for decades.
Labor law says companies cannot give unions that want to represent employees something of value.  Several justices questioned whether ruling against the agreement would disrupt longstanding labor-management practices.  If the justices find the pacts are a "thing of value," prohibiting employers and unions from entering into them, it would be a major blow to organized labor and future organizing efforts.
The case, Unite Here Local 355 v. Mulhall, was brought by an employee of Mardi Gras Gaming, a casino and dog track in Hollywood, Florida.
Martin Mulhall, the employee, said his employer violated the Labor Management Relations Act when it agreed to allow the union onto its property to organize workers, and when the company agreed to give the union contact information for employees in exchange for the union's support on a ballot initiative.
According to a Huffington Post article, Harvard University Law School Professor Benjamin Sachs states that "almost all of the successful unionizing efforts in the private sector in the last couple of decades have come through the type of private organizing agreements that are at issue in this case." A reversal of that precedent would be disasterous to future organizing efforts and Labor Management cooperation.
Click here to read a transcript of the oral arguments placed before the Court, and comments from the Justices.