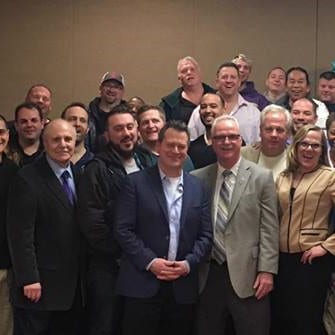 Atop a list no one even wants to be part of, construction is the "top" industry for total number of suicides and the second-worst industry in suicide rates (percentage of workers).
As such, it is imperative to shatter the mental health stigma and develop a caring culture within our workforce and our companies.
On March 31, SM Local 28, together with the JAC and SMART MAP, hosted a workshop in New York City on identifying the warning signs of mental health problems leading to self-destructive behaviors, alcohol/substance abuse and suicide.
Chris Carlough, SMART Education Director, opened the day by speaking on the new treatments and new attitudes toward substance abuse and its many impacts on our members.
Sally Spencer Thomas, co-founder and CEO of the Carson J Spencer Foundation and an international authority on suicide prevention, then led a detailed and pragmatic session that covered identifying signs and symptoms in possible candidates for suicide as well as what we can do as friends, coworkers and family members.

Our often physically challenging work makes employees prone to injuries and fatigue, which can cause chronic pain and in turn lead to physical strain, distress, and addiction to pain medications. There also is potential for post-traumatic stress and psychological injury caused by witnessing traumatic life-threatening events.
Just closing our eyes and hoping it goes away does not work. When it comes to suicide, ignorance is not bliss–it is fatal. It's time to deal with this health issue head-on.
The devastating truth is that all too often, people who experience mental health conditions–which can lead to suicidal despair–suffer in silence. Despite dramatic advances in awareness, prevention, intervention, and treatment, mental health issues and suicide prevention are still taboo as topics of conversation.
Construction industry leaders can change this perception. Improving mental health promotion and preventing suicide must become priorities within the overall health and safety initiatives of our employers' companies, and our Union as well.
This is a Union—a Brother- and Sisterhood. We've got to start the conversation.
If you or someone you know is suffering and you don't know what to do, now you have a friend who does. Contact a Union official or instructor. Or call the suicide hotline at  800 273 TALK (8255).