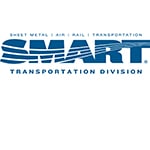 WASHINGTON, D.C. (Feb. 3, 2021) — The nation's largest freight railroad worker union pledges its full support to U.S. Rep. Tim Ryan of Ohio as he considers a potential bid for the United States Senate.



"Rep. Ryan, throughout his 10 terms as a representative of Ohio's 17th and 13th Districts, has proven time and time again that he is willing to fight and win for this nation's transportation workers," said Jeremy R. Ferguson, president of the International Association of Sheet Metal, Air, Rail and Transportation Workers — Transportation Division (SMART-TD). "With a solid record as a voice for labor in his district that spans Akron to Youngstown, it stands clear that Tim Ryan would have the strength and political experience to protect and support all working Ohioans on Capitol Hill as a senator."
Rep. Ryan has stood up to bad corporate policy and has co-sponsored national legislation that would require two certified people to operate freight trains, even as rail companies continue to place profit over safety via precision scheduled railroading. Last year, he voted in favor of both the HEROES Act, which would have protected transportation workers during the COVID-19 pandemic, and in favor of the comprehensive Moving Forward Act (H.R. 2), a measure that included provisions to protect bus and transit operators, as well as many other rail safety priorities.
On Sept. 30, Ryan appeared alongside SMART-TD members outside the U.S. Capitol as members of the Cleveland-based union rallied to support Amtrak workers who faced furloughs.
"Ryan is a champion for labor and working families. He has stood beside the members of our union for many years and he has been steadfast in his commitment to the unionized worker," Ferguson said. "There is no doubt that he has our backs, so if he seeks a seat in the U.S. Senate, there is no doubt that we will have his."
###
The SMART Transportation Division is comprised of approximately 125,000 active and retired members of the former United Transportation Union, who work in a variety of different crafts, including as bus and commuter rail operators, in the transportation industry.