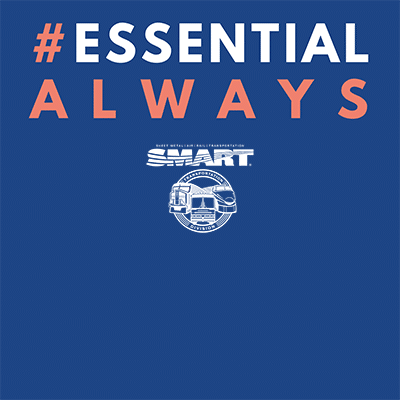 WASHINGTON, D.C. – This Labor Day, the SMART Transportation Division is proudly joining the AFL-CIO Transportation Trades Department, (TTD), to recognize and thank frontline transportation workers for their service and sacrifice, and remind Americans that our transportation workers are #EssentialAlways.
During the darkest days of the COVID-19 pandemic, SMART-TD members were instrumental in keeping the American economy open and functioning by working throughout the pandemic delivering goods and materials and transporting essential workers to where they needed to be. While their heroic efforts during the pandemic undoubtedly saved lives, transportation labor unions want to remind America that their members, and the duties they perform, are essential always.
"I have the highest admiration for the dedication, courage, and drive all of our members displayed as they remained steadfast, working through the initial stages of the pandemic, doing the work that is often overlooked but essential in keeping our country on its feet. They did this during the uncertain initial stages of the pandemic, through lockdowns and beyond," SMART Transportation Division President Jeremy R. Ferguson said. "The word 'essential' is the perfect description of all SMART-TD members and other transportation workers who keep our nation functioning and on the move. This campaign and the recognition we hope it brings is well-deserved and overdue."
The #EssentialAlways campaign comes at a historic crossroads for this dedicated workforce. As the United States continues to grapple with the devastating effects of the COVID-19 pandemic — which millions of frontline transportation workers have disproportionately shouldered — Congress and the Biden administration are pursuing transformational investments in infrastructure as part of the president's build back better agenda. Highly skilled transportation workers, including SMART-TD members will be vital in achieving these goals and rebuilding our country.
"Frontline transportation workers power the most advanced economy in the world by operating, maintaining, and building the most complex transportation network on earth," said TTD President Greg Regan. "Whether they're helping people get to home, work, or school, moving the goods and raw materials we all rely on, delivering our mail, seeing us through a crisis, or building transportation projects of the future, these dedicated professionals have always been essential to the fabric of America, and they always will be."
Transportation unions are encouraging the general public, elected leaders, and members of transportation and infrastructure community to join the campaign by following and engaging with the hashtag #EssentialAlways on Twitter, Facebook, and LinkedIn, and to watch and share this video explaining the important role transportation workers played before and during the pandemic, and the role they will play for years to come.