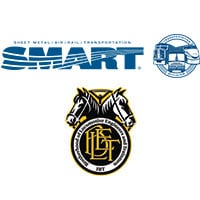 CLEVELAND, Ohio, (February 1, 2022) — By letter dated January 31, 2022, SMART-TD and the BLET are seeking review by both the Department of Labor and the U.S. Department of Transportation of all Class I attendance policies. In a joint letter to Labor Secretary Martin Walsh and Transportation Secretary Pete Buttigieg, SMART-TD President Jeremy Ferguson and BLET President Dennis Pierce ask the secretaries to immediately investigate all carrier attendance policies that refuse to provide exceptions for fatigue-related absences, as well as those that refuse to provide exceptions for illness-related absences.
Referencing the most recent "Hi-Viz" policy on BNSF set to go into effect today, the presidents said: "The new policy also potentially subjects employees to disciplinary action when they request time off because they are ill or when they need to tend to sick family members. This includes time off under the Family Medical Leave Act (FMLA), as this policy disincentivizes employees from utilizing this protected leave by prohibiting 'Good Attendance Credit' from ever being gained because of its use."
Addressing fatigue concerns, the presidents said: "The only tool these engineers and trainmen have to prepare for their unscheduled work shifts are so-called 'train lineups,' which are managed solely by the railroad. Moreover, BNSF has openly admitted that the quality of these lineups and the related predictability for the on-duty times is far from adequate. As a result, engineers and trainmen are routinely called for duty without having any knowledge or awareness of the potential for work (at that particular time), thus subsequently preventing them from the ability to be physically rested prior to their being called to work. For example, it is commonplace for these employees to be suddenly called into work for an evening shift when they didn't expect to be called in until the morning according to the available train lineups. Under BNSF's new Hi-Viz policy, even though they may be fatigued, they are not allowed to refuse the unpredicted call for duty without potentially being subjected to employer discipline, up to and including dismissal. Forcing these employees to choose between their job or their safety in the workplace is in complete contradiction to BNSF's obligation to protect public safety and to provide a safe workplace environment."
The presidents said the harsh policies fly in the face of railroad safety laws and government regulations. The policies also would negatively impact already-diminished workforce staffing and would contribute to an increase in the "already historic levels of mid-career resignations."
President Ferguson and President Pierce concluded: "It is imperative that the Department of Transportation and Department of Labor act to address this most egregious railroad policy, as well as those implemented by NS, CSX, Union Pacific, and any other railroad with similar policies. The safety and health of the engineers and trainmen who are employed at BNSF, and the safety of the general public, stands in the balance."
Read the presidents' letter to the DOT and DOL secretaries.
###
The SMART Transportation Division is comprised of approximately 125,000 active and retired members of the former United Transportation Union, who work in a variety of crafts in the transportation industry.
The Brotherhood of Locomotive Engineers and Trainmen represents nearly 57,000 professional locomotive engineers and trainmen throughout the United States. The BLET is the founding member of the Rail Conference, International Brotherhood of Teamsters.