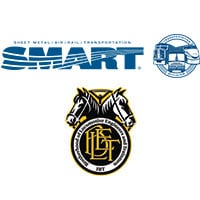 CLEVELAND, Ohio, (February 8, 2022) — Yesterday, SMART-TD and the BLET filed their oppositions to BNSF's request for the court to convert the January 25, 2022, Temporary Restraining Order (TRO) into a preliminary injunction. The unions each filed for their own preliminary injunctions against BNSF's implementation of its new Hi Viz attendance policy last week on February 2.
SMART-TD and BLET continue to maintain that BNSF's policy, issued in the midst of the ongoing COVID-19 pandemic and continuing supply chain issues caused in significant part by the nation's railroads' own cost-cutting measures, represents the epitome of corporate greed. This new policy will require employees to choose between going to work sick and spreading the COVID-19 virus to their co-workers and those co-workers' families or face termination by BNSF, once more proving there is no shame amongst the modern-day robber barons like BNSF.
While SMART-TD and BLET will continue to abide by the court's TRO, it will continue to use every legal means available to prevent BNSF from carrying on its unconscionable and illegal attendance policy. Additional information will be forthcoming as it is available.
A copy of the SMART-TD's opposition to BNSF's motion for preliminary injunction is available.
The appendix accompanying the SMART-TD filing is available.
###
The SMART Transportation Division is comprised of approximately 125,000 active and retired members of the former United Transportation Union, who work in a variety of crafts in the transportation industry.
The Brotherhood of Locomotive Engineers and Trainmen represents nearly 57,000 professional locomotive engineers and trainmen throughout the United States. The BLET is the founding member of the Rail Conference, International Brotherhood of Teamsters.