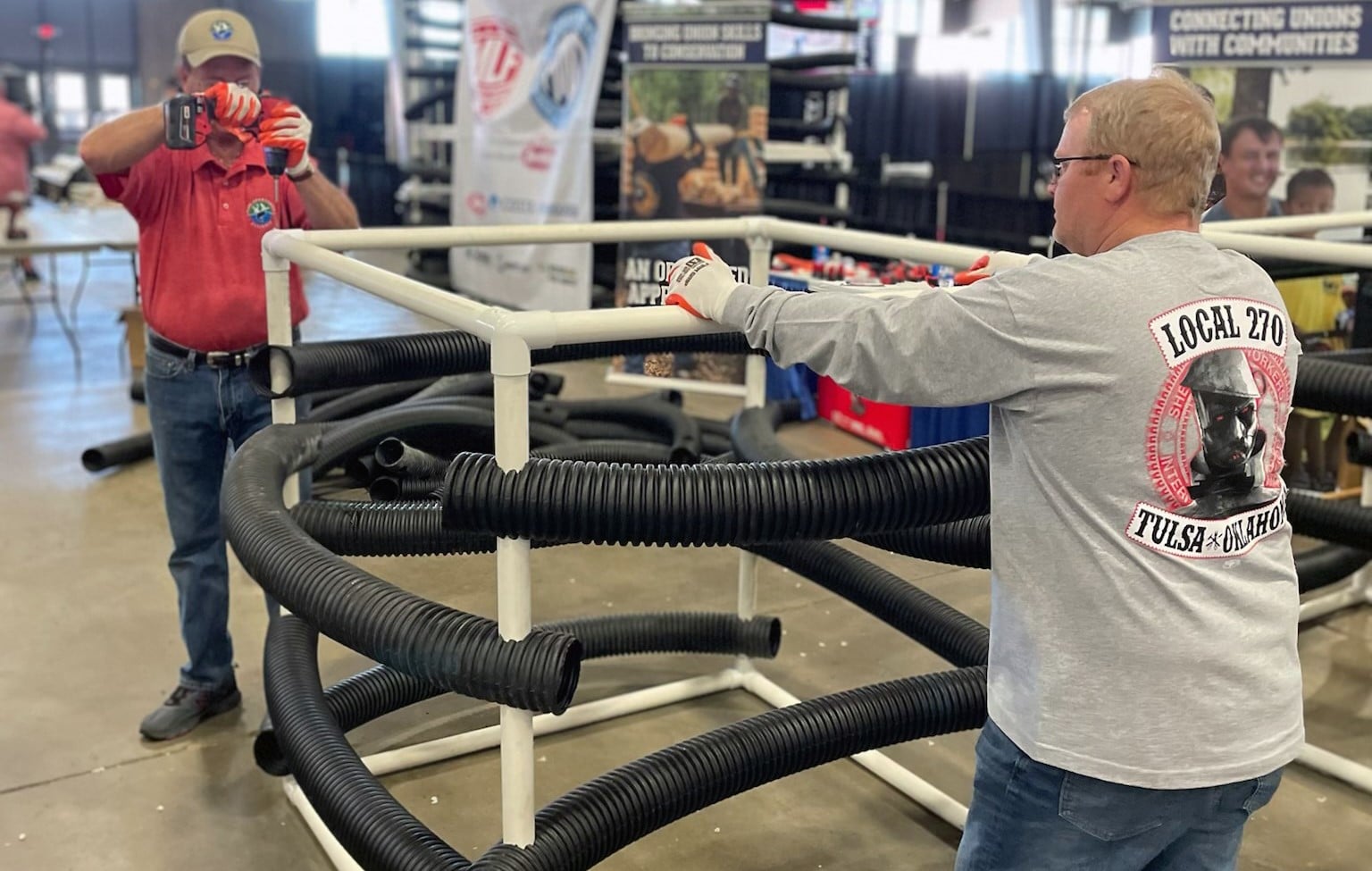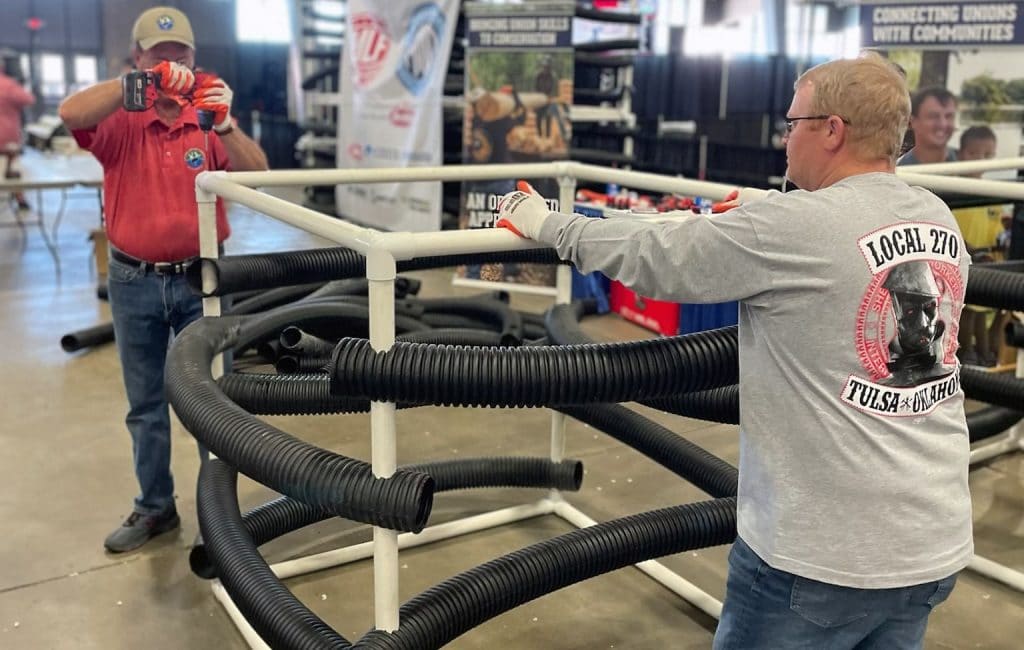 In late March, SMART members joined union brothers and sisters from across the Oklahoma labor movement for a good cause. Together with the Union Sportsmen's Alliance (USA) and Major League Fishing (MLF) Fisheries Management Division (FMD), local union members teamed up at REDCREST – MLF's Bass Pro Tour championship – to build 120 artificial fish habitats. The Oklahoma Department of Wildlife Conservation, MFL co-founder and Bass Fishing Hall of Fame inductee Gary Klein, FMD members and MossBack Fish Habitat deployed some of the structures into Lake Bixhoma shortly after to improve the quality of life for numerous fish species.
"Much of the natural fish habitat once found in many of our reservoirs has been buried by siltation or slowly degraded over time as it decomposes," said Steven Bardin, a fisheries biologist with MLF-FMD. "This habitat loss must be addressed if we plan to continue to support healthy fish populations. That's why a project like the Ferguson Habitat build and partnerships with Union Sportsmen's Alliance, MossBack Fish Habitat, the KVD Foundation and Berkley Labs are so important to MLF Fisheries Management Division."
Habitat restoration projects like the one at REDCREST target fisheries near MLF Bass Pro Tour stage locations and – using science-based methods, a community-driven approach and materials preferred by local agencies – help to reestablish natural areas of local communities. The event at REDREST saw 41 union volunteers representing the Oklahoma AFL-CIO, Transportation Workers Local 514, Sheet Metal Workers Local 270, Roofers Local 143, Electrical Workers Local 584 and National Letter Carriers Local 1358 donate 530 hours – a $28,090 value – to build the habitats using tools donated by Milwaukee Tool and materials provided by Ferguson and MossBack Fish.
"The Oklahoma AFL-CIO has partnered with the USA on multiple projects in Oklahoma, and the communities are always grateful for the work we do. During the expo, many attendees stopped by the booth to ask questions about the habitat builds and the work the USA does," said Jimmy C. Curry, Oklahoma AFL-CIO president, who organized volunteers for the project. "I've personally done work with our unions and different charities for over 30 years, and the projects we have done with the USA have been my most memorable. Seeing the work the USA does has made me a Union Sportsman for life."
MLF and the USA signed an agreement in July 2021 to pursue angler recruitment, retention and reactivation via each entity's staff and respective pools of member volunteers in order to put together local and state fishing events, MLF fishing events and USA habitat conservation projects.
"Through our Work Boots on the Ground conservation program, the USA reaches into local communities to create and improve access and opportunities in the outdoors," said Forrest Parker, USA director of conservation and communications. "Combining the USA's workforce of union volunteers with the resources and influence of Major League Fishing through projects like this propel both of our organization's efforts to pass on the fishing heritage to a whole new level."
In projects like the one at REDCREST, community engagement is a concrete aim – and that aim was certainly achieved in Oklahoma, in no small part because of the enthusiasm and skill set of union members who took part. "An added benefit of bringing together skilled union volunteers to complete a conservation project in the middle of an event attended by tens of thousands of bass fans, was the educational component," said Sam Phipps, USA conservation programs manager. "There were hourly demonstrations and printed instructions available, so expo attendees can now build habitat on their own to benefit additional water bodies and fisheries."