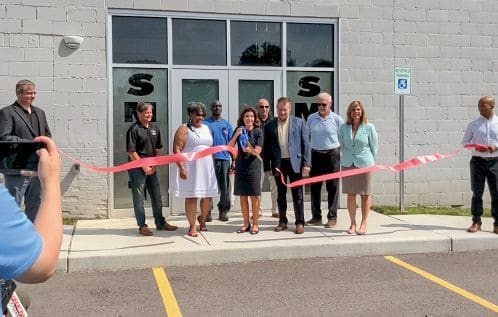 A former manufacturing facility that was once a neighborhood eyesore was renovated and reconstructed into a new two-story, 7,200-square-foot building that today houses an expanded, updated training facility for future generations of SMART Local 71 sheet metal workers. With an expected demand for new training classes, a third adjacent property was also acquired from the City of Buffalo to be used as additional parking for the renovated structure.
The nearly $1.3 million project on Liberty Avenue cleaned up and reused a former brownfield site to merge three separate properties into one state-of-the-art facility that will introduce future generations to the trade while relying on clean energy upgrades applied to the facility.
To assist in the funding of this significant rehabilitation and upgrade, SMART Local 71 applied for and was awarded $377,000 through the Empire State Development Authority.
"The transformation of a previously vacant brownfield site into a modern training facility for the members of SMART Local 71 is not just a strategic investment that will strengthen Buffalo's manufacturing sector, it also advances key goals for the broader New York State economy."

– Kevin Younis, Empire State Development Chief Operating Officer and Executive Deputy Commissioner.
"The transformation of a previously vacant brownfield site into a modern training facility for the members of SMART Local 71 is not just a strategic investment that will strengthen Buffalo's manufacturing sector, it also advances key goals for the broader New York State economy," said Kevin Younis, Empire State Development Chief Operating Officer and Executive Deputy Commissioner. "The state-of-the-art facility gives meaningful place-making purpose to an abandoned building and underutilized property in the city and ensures current and future generations of SMART Local 71's talented, hard-working workforce have the critical training and necessary skills in construction, sheet metal production and metal fabrication to meet the demands of the industry."
The groundbreaking was attended by a swarm of union leaders, members, staff and elected officials from every level of state government.
"As we reimagine our economy for a post-pandemic comeback, it's more important than ever to make sure that success is accessible to all," said current New York Gov. Kathy Hochul. "SMART Local 71's expanded training center is training the next generation of skilled workers to help build the new Buffalo skyline and will further unleash the full potential of Western New York's economy, connecting people with good paying jobs and ensuring no one falls behind during our recovery."
Local 71 Business Manager Paul Crist, in his remarks at the groundbreaking added, that, "Sheet Metal Workers' Local 71 committed to making the City of Buffalo our home in 2000. Since then, we have worked, saved and planned for this expansion, so we can continue our mission of training the next generation of Sheet Metal Workers."