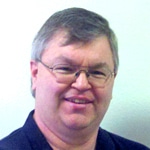 Jim Chase, North Dakota State Legislative Director of the SMART Transportation Division, submitted the following letter to the editor of The Bismarck Tribune. It was published Feb. 28, 2014.
Since the 1880s, North Dakota's railroads have played an essential role in developing our state and our economy. Today's railroads continue to provide vital passenger service and freight transportation across our state, and in the past two years have been the primary way we ship Bakken crude oil to market.
Without rail transportation, we would not have an oil boom in North Dakota today. And we would not have the incredible state budget surpluses we use to fund all sorts of worthy things.
Amtrak, our state's only rail passenger service provider, has been providing that service since 1970. A recent statewide survey conducted on behalf of our union, SMART-Transportation Division (formerly the United Transportation Union), found that a strong majority of North Dakotans are very supportive of 1), Amtrak and 2), taking action to assure railroads continue to operate safely.
North Dakotans are not alone in their support for Amtrak; nearly identical poll results across the country reflect its growing popularity.
Ridership is at an all-time high, reaching 31.6 million last year. Indeed, one of the only places where Amtrak is not enjoying increasing favor is Washington, D.C., where some congressional leaders are still pushing to de-fund or privatize Amtrak. It is a position clearly out of step with Americans of all political persuasions.
With Congress preparing to rewrite the law that governs Amtrak and rail safety legislation, now is the time for elected officials to listen to their constituents and provide adequate funding for Amtrak to ensure that our nation's railroads operate at the highest levels of safety. Seventy-one percent of North Dakotans favor federal legislation requiring a minimum of two-person crews on trains, which is one of the most effective ways to prevent accidents.
In the past, Amtrak was never a partisan issue. In fact, Amtrak had no greater friend and supporter than former Republican U.S. Senator Mark Andrews of Casselton, N.D. And as current polling across the country shows, Republicans, Democrats and Independents alike strongly support Amtrak in almost equal numbers.
Rail safety has taken on more urgency in the wake of several deadly train accidents in the last year. Last July, a single-person crew left a train unattended and it rolled away, destroying the center of a town in Quebec and killing 47 people. Other recent deadly passenger train accidents in Spain and New York occurred with only one person in the locomotive cab.
North Dakota recently had its own newsworthy train accident just west of Casselton, when a train carrying crude oil collided with another train carrying soybeans. Several cars became derailed and burned. Thankfully, both trains had more than one crew member on board who were able to respond to the situation, with no loss of life.
Every one of the accidents just described illustrates the need for a minimum of two persons on a train crew; however, requiring two-person train crews must be legislated. The railroads would prefer zero crew members on a train and want the power to reduce their train crews to the bare minimum at their personal discretion. Safety is our biggest concern; profit is theirs.
Congress can help secure safe rail service across our country by adequately funding Amtrak and by passing The Safe Freight Act, HR3040, a bill to require every freight train to have two crew members on board.
We as North Dakotans rely on freight rail to transport our Bakken crude oil and farm commodities to market, and we rely on Amtrak as an essential passenger transportation option. North Dakota depends on having safe rail service.