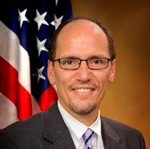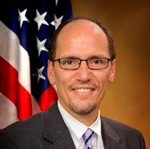 The Senate confirmed Tom Perez as Labor secretary on a 54-46 party-line vote July 18, making him the second of President Barack Obama's nominees to win confirmation this week following a deal to preserve the filibuster.
Perez won cloture Wednesday on a 60-40 vote, with six Republicans joining 52 Democrats and two independents. His confirmation required only a majority of 51 votes.
Read the complete story at Politico.
President Obama released the following statement: 
I welcome today's confirmation of Tom Perez to serve as Secretary of Labor. Tom has lived the American dream himself, and has dedicated his career to keeping it within reach for hardworking families across the country. At the Department of Labor, Tom will help us continue to grow our economy, help businesses create jobs, make sure workers have the skills those jobs require, and ensure safe workplaces and economic opportunity for all.
I want to thank the Senate once again for agreeing to move forward on Tom and the other nominees who have waited far too long for the yes-or-no votes they deserve.