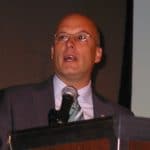 The Senate on June 22 easily confirmed the nomination of Daniel Elliott for a reappointment on the Surface Transportation Board.
Elliott's nomination was confirmed by voice vote. During his confirmation hearing, Elliott said he would ensure the board continues "to facilitate the resolution of service issues so that interstate commerce flows as smoothly and efficiently as possible in support of the U.S. economy."
Elliott was a lawyer with the United Transportation Union. He was the board's chairman from 2009 until December, when his term expired.
Read more from Transport Topics.