San Diego 2019
July 1-3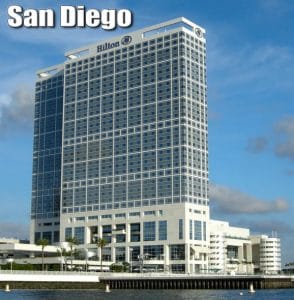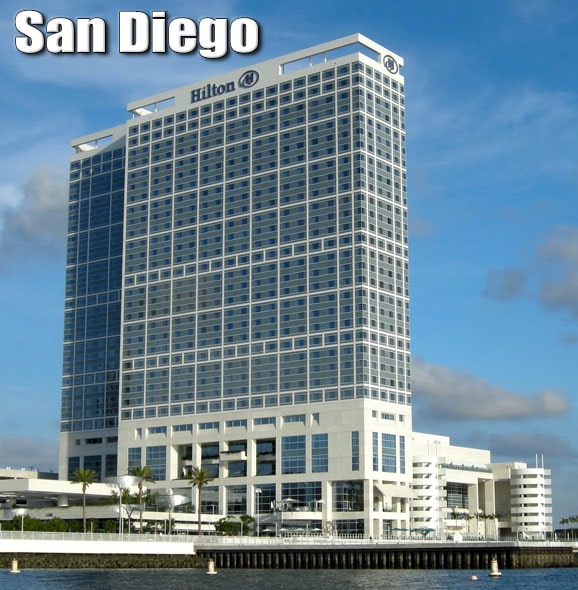 Host hotel: Hilton Bayfront Hotel
1 Park Blvd.
San Diego, CA 92101
Rates: $199 per night for single or double; $219 per night for triple; $239 per night for quad. State and local taxes are not included in rates.
Reservation deadline: June 11, 2019
Phone-in reservation: 1-800-HILTONS (1-800-445-8667)
Reservation code: SMART
Online reservations: Click Here
Parking:
Self: $35 per night
Valet: $50 per night
For more information about the Hilton Bayfront Hotel, click here.
---
SMART TD Registration
A completed registration form and payment must be received by no later than June 17, 2019, to be considered pre-registered. The price for registration for pre-registered guests is $150 per guest. Registration for children ages 11 and under is complimentary. Registrations received after June 17 will be charged an on-site registration fee of $200. Additional fees apply for the tours.
The registration fee covers all workshop materials, a welcome reception, three lunches and one evening meal. Those wishing to attend only the workshops do not need to register or pay the $150 fee.
You may cancel your meeting registration 10 days prior to the first day of the meetings without penalty. Call the Transportation Division at 216-228-9400 or email btaylor@smart-union.org immediately regarding changes or cancellations to your registration.
Click here to register online.
Click here for the mail-in registration form.
---
Workshop Schedule
Click here to view a copy of the workshop schedule.
---
Avis Car Rental Discount
Avis Worldwide Discount (AWD) Number: D150699
Phone reservations: 1-800-331-1600
Online reservations: Click Here
---
United Airlines Discount
Valid dates: 06/24/2019 – 07/10/2019
Location: San Diego, CA (SAN)
Offer code: ZGKV753287
Z code: ZGKV
Agreement code: 753287
Book online: www.united.com
Phone reservations: 800-426-1122
---
Tours
A pair of tours has been finalized on June 30 and July 1 for attendees of the 2019 SMART Transportation Division Regional Meeting in San Diego.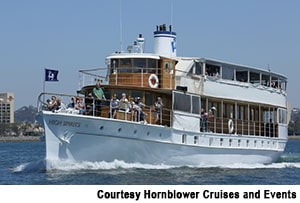 Day 1 (June 30): High Spirits Hornblower yacht luncheon/tour: Attendees will be picked up at the hotel dock at 9:45 a.m. to enjoy sightseeing on San Diego Bay with a professionally narrated harbor tour. More than 50 historic landmarks are covered by the 13-mile Big Bay cruise. Attendees will enjoy lunch on board and see marine animals and majestic sea birds on High Spirits, which was originally constructed as a sister ship to President Franklin D. Roosevelt's presidential yacht, the Sequoia. Attendees will arrive back at the dock at 1 p.m., giving them time to spare to visit Seaport Village, which is within walking distance, before the Regional Meeting's opening reception Sunday evening.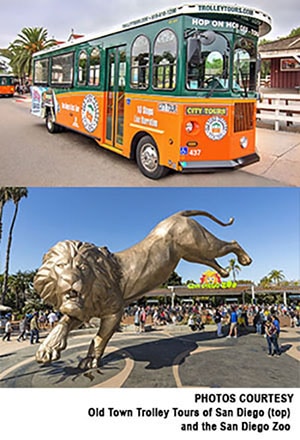 Day 2 (July 1): Old Time Trolley ride and visit to the San Diego Zoo: Attendees will take a trolley from the Hilton Bayfront Hotel at 8:45 a.m. and travel to the world-renowned San Diego Zoo, home to thousands of exotic animals. Guided bus tours of the 100-acre zoo will allow visitors the chance to encounter the zoo's more than 3,500 rare and endangered animals representing more than 650 species and subspecies and its prominent botanical collection with more than 700,000 exotic plants. A slate of wildlife shows and an airborne shortcut over the treetops will give visitors an unforgettable experience as they encounter the zoo's animal and plant collection and surrounding Balboa Park. Lunch vouchers provided on the tour will allow attendees to customize their visit to their interests, and the tour group will return to the hotel at about 3:30 p.m.
Tour costs are $35 per person for registered guests of the regional meeting and $75 per person for guests who are not registered for the regional meeting. Follow this link to register online or you can download a fillable PDF version of the regional meeting registration form and mail in your registration.
Additional information and tickets to the tours will be distributed during on-site registration at the Hilton Bayfront Hotel noon to 4 p.m., Saturday, June 29, or 7 a.m. to 5 p.m., Sunday, June 30.
---
TUESDAY EVENT: Night out at the Padres game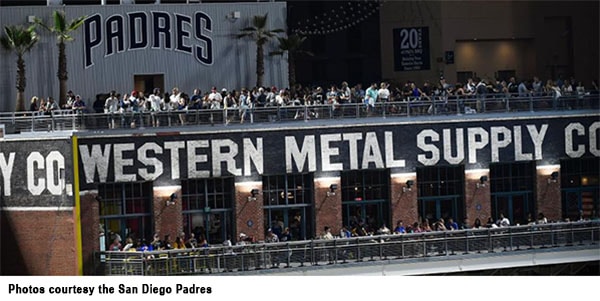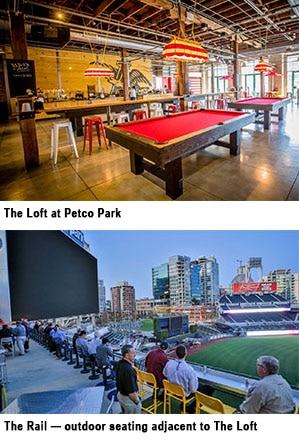 Food, fun and baseball will be the name of the game as registered meeting attendees watch the Padres take on the National League West rival San Francisco Giants at the Padres' home field, a short walk from the host Hilton Bayfront Hotel.
Attendees can feast on summer favorites and ballpark classics from the grill, including barbecue chicken, hot dogs and more on the historic Western Metal Building rooftop (pictured above) in left field. Food and beverage service will begin one hour prior to first pitch at 7:10 p.m.
Food service will be available for two hours, and beverages will be available through the seventh inning.The game can be enjoyed from the Western Metal rooftop, the terrace-level sports bar "The Loft," or from adjoining seats at "The Rail." Traditional seats are also available in Sections 226 and 228.
Members will have a chance to mingle and make memories with their guests, families and union brothers and sisters during this exciting night at Petco.
Admission to the ballpark event is included with a paid registration to the TD Regional Meeting. Follow this link to register online or you can download a fillable PDF version of the regional meeting registration form and mail in your registration.