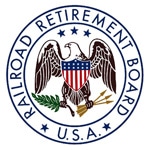 The U.S. Railroad Retirement Board (RRB) has announced that during the lapse in federal funding for certain government operations which began Oct. 1, ongoing benefit payments will continue and all RRB offices are expected to remain open.
RRB field offices, operating with reduced staffs, may also accept new claims for unemployment and sickness benefits, but will not be allowed under current budget laws to accept new applications for retirement, survivor, and disability benefits. Persons receiving ongoing benefit payments are still obliged to report any events that would affect the payment of their benefits.
Individuals calling the RRB's toll-free telephone number (877) 772-5772 and having difficulty in reaching an agency representative are asked to be patient as offices are operating with a very limited staff.
Labor member of the RRB Walter A. Barrows has announced that during the lapse in funding, the informational conference program conducted by his office will be suspended. 
As a result, the informational conference scheduled for Oct. 4 in Cincinnati, Ohio has been canceled. If the partial government shutdown continues through Oct. 11, conferences scheduled for Oct. 18 in Pittsburgh, Pa., and Louisville, Ky., will also be canceled; if it continues through Oct. 18, the conference planned for Oct. 25 in Philadelphia, Pa., will be canceled.
RRB field personnel responsible for leading these conferences will be unable to attend during the shutdown, as travel will be extremely limited for these and other agency employees.