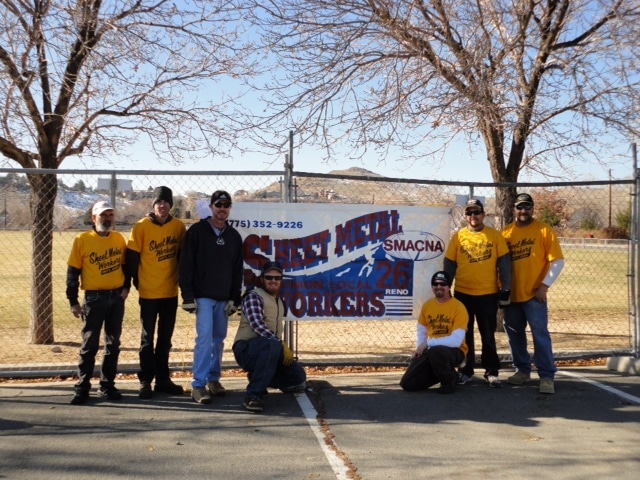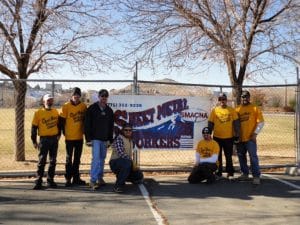 Matt Doehring, Business Manager of SMART Local 26 is a proud lifetime member of the community of Sparks, NV. Called the "Rail City," Sparks is a medium-sized community with a proud railroad heritage. A vintage steam locomotive, cupola caboose, and Pullman executive car are displayed in the historic downtown, as well as a depot replica and a monument to the Chinese rail workers who toiled on the construction of the early rail lines.
Even with the day to day duties and responsibilities that come with being a Building Trades Business Manager, Local 26 Business Manager Matt Doehring coordinates efforts at the seasonal Keep Truckee Meadows Beautiful Christmas tree recycling station, along with other Local 26 sheet metal workers. Recently, the Sparks Tribune recognized Doehring and Local 26 for its volunteer efforts on behalf of the community.
Doehring told the Tribune, "(I do) whatever I can do to try and make things the best possible under any circumstances. As you start to get older, you start to think about giving back…It just feels right."
Doehring hopes to strengthen SMART's ties to the local community, boost member morale, and inspire lasting volunteer efforts. "Everyone who comes to drop off their tree is always in a great mood. It's just an overall fun day," he said. "It makes my heart smile at the end of the day to know that I've given back to the community."
Local 26 members have coordinated and participated in a number of volunteer events in addition to the tree drop-off, like the Washoe County School District book drive and the KTMB E-Waste recycling days.
Local 19 Wins Election at Singer Equipment Company
After a long fight with Singer Equipment Company— from the stipulation hearing to the ground campaign—Local 19 sheet metal workers recently won an election on December 19. The owner fought the whole way, but the workers stood strong, with a unanimous decision in the end.
According to Local 19 Business Manager Gary Masino, "We are looking forward to garnering a fair agreement for these workers and feel the possibility of attaining one is strong in this case."
Singer Equipment Company is currently the fourth largest foodservice equipment dealer in the United States. Singer also provides kitchen equipment on a nationwide basis to chain restaurants and contract feeders.