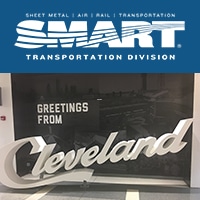 Registration is now open for the 2020 SMART Transportation Division Regional Meeting to take place August 24 to 26, 2020, in the heart of rock n roll, Cleveland, Ohio, at the Hilton Cleveland Downtown.
Members can expect a full slate of informative workshops and many chances to build camaraderie with fellow union brothers and sisters over the three-day meeting. Registration fees will increase this year for the first time since 2004 to encourage early registration which aids in our pre-meeting planning and ensures accurate counts for meal functions.

The pre-registration fee is now $200 per member, spouse or child over 11. Registrations received after Friday, July 24, 2020, will be $250 per member, spouse or child over 11. Onsite registrations will be $300 per member, spouse or child over 11. Registration for children ages 11 and under remains complimentary.
Registration fees cover all workshop materials, a welcome reception, three lunches and a group event on Tuesday, Aug. 25, where the Transportation Division takes over the Rock 'n' Roll Hall of Fame and Museum. Food and beverages will be provided at various levels of the museum and attendees will get a chance to explore the museum's seven levels of interactive rock memorabilia throughout the night.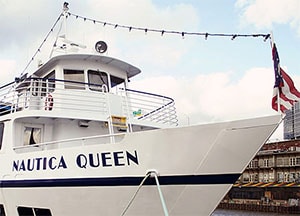 Additional fees apply for the group tour, a cruise of the Cuyahoga River and of Lake Erie scheduled for Monday, Aug 24, sponsored by the SMART TD Auxiliary. For registered attendees the fee is $35 and for unregistered attendees the fee is $75.
Visit this link to register online.
Visit this link for the mail-in registration form./strong>
Discounted hotel reservations are available. Guests are welcome to make reservations using this link or by calling 1-855-871-6943 and mentioning the group code "SMART – Transportation Division." The cutoff date to make discounted reservations at the hotel is July 30, 2020.
Additional details will be updated on the Regional Meeting page of the SMART Transportation Division website.
---
Picture credits from photo collage – left to right
Top Row: East 4th Street – © Cody York for ThisIsCleveland.com, Rock & Roll Hall of Fame – © Rock & Roll Hall of Fame, Cleveland History Center – © Cody York for ThisIsCleveland.com, Cuyahoga Valley Scenic Railroad – © Fred Stuckmann; 2nd Row: Great Lakes Science Center – © Destination Cleveland, Playhouse Square – © Destination Cleveland, Christmas Story House – © Kayla Lupean for ThisIsCleveland.com; 3rd Row: Progressive Field – © Cody York for ThisIsCleveland.com, Lolly the Trolley – © Kayla Lupean, Cleveland Metroparks Zoo – © Destination Cleveland; Center: Cleveland Script Sign at Edgewater Park – © Cody York for ThisIsCleveland.com; 4th Row: Rock & Roll Hall of Fame – © Cody York for ThisIsCleveland.com, Flats East Bank – © ThisIsCleveland.com, Hard Rock Rocksino – © Hard Rock Rocksino, West Side Market – © Destination Cleveland