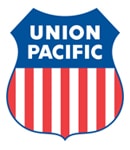 SAUGET, Ill. – Train conductor Barry Norman, a fifth-generation railway worker, climbed aboard the cab of a yellow and black locomotive with Union Pacific in bold red lettering. He along with Engineer Steve Burrow and Alton & Southern Railway Co. Police Chief Lindell Barton offered special rides Monday (March 24). Their goal – and those of others involved – was to save lives.
(Norman and Burrow are members of SMART Transportation Division Local 1929 at East St. Louis, Ill.)
The rides were part of UP CARES, Union Pacific's Crossing Accident Reduction Education and Safety program. "Our goal is education and enforcement," said Matt Backer, a patrolman for the Alton & Southern Railway police.
Read the complete story at the St. Louis Post-Dispatch.