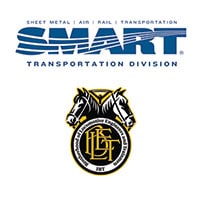 CLEVELAND, Ohio (Jan. 12, 2021) — The leaders of two of the nation's largest railroad worker unions urgently petitioned the Federal Railroad Administration (FRA) and Department of Homeland Security (DHS) in a letter January 11 to prevent security vulnerabilities and to protect those who ride — as well as the essential workers who operate — Amtrak passenger rail service in and around the nation's capital after the deadly Jan. 6 insurrection.
The International Association of Sheet Metal, Air, Rail and Transportation Workers — Transportation Division (SMART-TD) and the Brotherhood of Locomotive Engineers and Trainmen (BLET) demanded that FRA and DHS take immediate executive action to tighten security and enhance punishments, and to increase personnel to a level that brings passenger rail security more in line with aviation security overseen by the Federal Aviation Administration (FAA) as the threat of political violence swirls.
"Realizing years of neglect cannot be fixed overnight, we are demanding that significant changes to passenger rail protocol be granted immediately to protect against the imminent threat of danger that exists today," Presidents Jeremy R. Ferguson of SMART-TD and Dennis R. Pierce of the BLET said. "It is our recommendation, as a minimal standard, that any regulation granted to prohibit the interference of a train crew's duty be in line with that of aviation statutes and regulations."
Suspected insurrectionists continue to threaten further violence as the transition to President-elect Joe Biden's administration approaches next week. Some of these have been relegated to the No Fly List overseen by FAA, preventing them from traveling by air, but no such restriction exists for the national passenger rail network. SMART-TD and BLET urge that a "no-ride" list that mirrors FAA's list be enacted immediately.
Similarly, train stations lack security. Absent the screening protocols similar to those provided by the Transportation Security Agency (TSA) at the nation's airports, armed riders with malicious intent could board an Amtrak train with weapons, putting passengers and rail workers at risk of injury or death. To remedy this, SMART-TD and BLET call for an additional law enforcement presence in the form of Amtrak police or, if manpower is insufficient, requests the Department of Justice or Department of Homeland Security bring in U.S. Marshals or TSA agents to take measures approaching those enacted by the airline industry.
A proportional presence of workers in the passenger compartments of Amtrak trains similar to that in the airline industry, with at least one conductor or assistant conductor present per 50 riders aboard also can enhance safety and the response aboard the train if an emergency does occur.
"SMART-TD is committed to safety, and we will accept nothing less. Our men and women risk their lives every single day as critical infrastructure employees in the railroad industry," Ferguson said. "They have no way of knowing if an individual is violent, armed, or much less already flagged as a known risk to safety via the TSA's No Fly List. Every encounter could serve as an agitation or provocation of an already aggravated individual to attack.
"Our members deserve better and the traveling public deserves better. We are willing and able to work with all applicable agencies to achieve this goal, but it must be done today."
"Railroad workers have continued to serve the needs of the traveling public during these difficult times," BLET President Pierce said. "Our members are hardworking Americans who put their lives at risk each day in the performance of their duties. In the aftermath of the violence in our nation's capital last week, our members and the traveling public deserve increased protection during this time of ongoing political unrest. We stand ready to assist FRA, TSA and Homeland Security to help ensure the safety of our members and the traveling public."
Read the PDF of the Emergency Order petition from the unions.
###
The SMART Transportation Division is comprised of approximately 125,000 active and retired members of the former United Transportation Union, who work in a variety of different crafts, including as bus and commuter rail operators, in the transportation industry.
The Brotherhood of Locomotive Engineers and Trainmen represents nearly 58,000 professional locomotive engineers and trainmen throughout the United States. The BLET is the founding member of the Rail Conference, International Brotherhood of Teamsters.