Phoenix 2015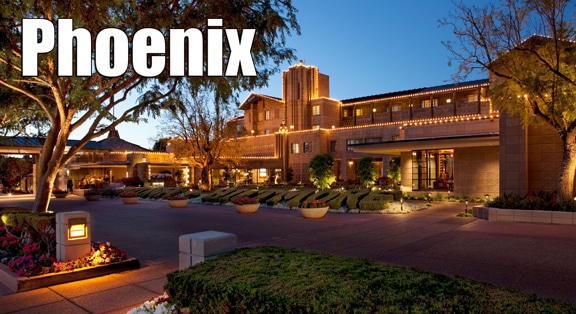 Phoenix, Arizona
June 29-July 1, 2015

Host hotel: Arizona Biltmore
2400 East Missouri Ave.
Phoenix, AZ 85016

Rate: Rates valid Thursday, June 25, through
Sunday, July 5, based upon availability.
Single/double ($129), plus state and local
taxes.

Hotel reservations:
Make your room reservations online

Room reservation deadline: May 26, 2015

Telephone numbers:
Hotel: (602) 955-6600
Toll-free reservations: (800) 950-0086
Reservation code is SMART WESTERN
REGIONAL MEETING

Parking: Valet parking: $27;
Self park: $12

Phoenix information:
Visit Phoenix

Car rental information:
Rent from Avis online or call
(800) 331-1600. SMART discount number
is D150699.

SMART meeting online registration:
Register online (credit card only)

SMART meeting registration:
Mail-in form (check, credit card or money order)

Meeting agenda: Phoenix

Click here for information about the Biltmore resort.

Airline discounts

United Airlines
United Airlines offers discounts off published fares up to 10 percent or zone fares for the Phoenix, Ariz., regional meeting. Call your travel professional or United at (800) 426-1122 for reservations. Refer to Z Code (ZUJX) and Agreement Code (982191). There will be a $25 service fee collected, per ticket, for all tickets issued through United Airlines ticketing facility. Or, save an additional three percent by booking your own reservations at www.united.com. Choose your flight times and access your meeting discounts by inserting the Z Code and Agreement Code in the Offer Code box, without a space between the two codes (ZUJX982191).

Golf Tournament

The Phoenix regional meeting golf tournament will be held Sunday, June 28, at The Links on the grounds of the Biltmore. Phone (602) 955-9655. It will be an 7 a.m. shotgun start. The cost is $80 per person, which includes greens fees for 18 holes of golf, half a cart, range balls and prizes. Space is limited; first come, first served. For course information, visit Golf at Arizona Biltmore.

Tours


Sunday, June 28
Dolly Steamboat Nature Cruise

During this six-mile cruise you may see desert bighorn sheep, bald eagles and a host of other animals viewed from the decks of the Dolly! Guides also touch on the beautiful flora from the stately Saguaro cacti to the microscopic organism called desert varnish. An unforgettable vista of volcanic "welded tuff" canyons and 1,300 foot cliffs awaits you on Canyon Lake. This awe-inspiring "diamond in the rough" is one of Arizona's best kept secrets! This cruise is recommended for guests of all ages.

 

Monday, June 29
Heard Museum

Known for its award-winning exhibits, the Heard Museum uses its collections and first-person voice to tell the stories of American Indian cultures while at the same time celebrates the diverse achievements of today's artists. Experience the Heard's 12 exhibition galleries that include both ongoing shows and changing exhibits featuring an array of artists and art forms. Your visit to the Heard Museum includes 12 exhibition galleries, free guided tours, outdoor sculpture gardens, a renowned café, a contemporary art gallery and trading-post style shopping, plus much more.