Mechanical and Shipyard Department
Working In America's Shipyards
SMART members perform the work of our craft in both federal and private shipyards. Our members maintain and overhaul Navy ships in federal yards located in Norfolk, Virginia; Portsmouth, New Hampshire; Bremerton, Washington; and Pearl Harbor, Hawaii. We perform the work of our craft in shipyard building, offices, shops, warehouses and yards. Our members are involved in construction, retrofits and maintenance within the federal shipyard facilities that house the various shops, offices and warehouses.
In private shipyards, we do much of the same work with the exception that all newly constructed ships for the U.S. Navy are built in private shipyards. Private shipyards have depended on the Navy for work for the past 30 years, building every class of ship the navy used. Unfortunately, all new commercial ships have been built in foreign countries for a number of years; however, American shipyards have secured contracts recently to build various classes of vessels – most recent, four cruise ships. Our members have a long and proud tradition of building and maintaining ships for the U.S. navy and now we will be able to apply our skills to the building of commercial ships.
Servicing North America's Railroads
Our Mechanical and Engineering Department includes a Director of Railroad Workers, International Representatives, Local Unions across the continent and the US District Council of Railroads. Generally, wages, health insurance, vacation and other benefits for our members employed by freight railroads are negotiated on a national basis, although, the contracts are between the International and each company. Other contracts with freight railroads, Amtrak and commuter railroads are negotiated by International Representatives on a local basis. There are 39 Local Unions whose members work in one phase or another in the Rail Transportation Industry. The officers of these Local Unions protect the jurisdiction of the Sheet Metal Workers' International Association and with the Local Union members collectively work to enforce our Union Contract with each employer. Problems that cannot be resolved by the Local Union Committee with the employer are referred to a General Chairman in the District Council. The United States District Council of Railroads was charted in 1982, an amalgamation of eleven (11) District Councils that dated back to the 1930s. The officers of the Railroad District Council are the General Chairman, Secretary Treasurer and three full-time elected General Chairmen located in different areas of the country who assist the local unions and handle day to day problems with enforcement of the contract. There are also five members of the Council's Executive Board. The District Council's office is located at 24 Columbine Avenue, Merrick, New York 11566, and the telephone number is 516-485-4571.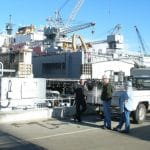 General Chairmen meet and negotiate over problems and claims with the local management and/or the Labor Relations Department of a particular railroad. Claims, grievances and disputes that cannot be settled between the Labor Relations Department and the General Chairman may be referred to arbitration. The arbitration cases can be filed in two ways. 1. An arbitration case can be taken to the Second Division of National Railroad Adjustment Board in Chicago, Illinois and presented to a neutral party for resolution. The Board has an equal number of Labor and Management representatives who hold hearings and argue cases before the neutral referee. An International Representative is a member of the National Railroad Adjustment Board and presents the Union's position in cases before the Board. 2. An arbitration case can be brought to a Public Law Board or Special Board of Adjustment by the General Chairman. A neutral arbitrator is chosen jointly by the General Chairman and the respective Railroad Labor Relations Department. The parties will present their cases and the arbitrator will render a binding decision. This Union was a founding member of the Transportation Trades Department (TTD) of the AFL-CIO. Founded in 1990, the TTD consists of Labor Unions whose members work in rail, transit, trucking, aviation, bus, marine, and related industries. We seek collectively to promote the unionization of the Transportation Industry, protect our members' jobs and the Union contracts that provide good wages and benefits within that Industry. Also, through TTD we work together to effectively monitor laws and workplace regulations ranging from worker and public safety protection to federal labor standards and employee protection. The Unions with members employed in the Rail Industry formed a Rail Division of the Transportation Trades Department. The Rail Division meets regularly to plan joint initiatives to effectively represent workers in the Railroad and Shipyard Industries. For more specific information about the TTD, the following link will take you directly to their web site: www.ttd.org. One of the first benefits the Unions successfully fought to establish for railroad workers was a uniform pension system under the Railroad Retirement Act. The Railroad Retirement Act applies to workers whose employer is engaged in the transportation of products or passengers by rail and Unions who are Railroad Retirement Act employers. The Act is administered by a three (3) member Railroad Retirement Board and is a unique agency of our Federal Government with one Labor, one Management and one Public Member. While Congress has the final authority to change the Railroad Retirement Act, during the last 40 years the only changes in the Act were products of negotiation and agreement between Labor and Management. After Labor and Management agreed on the necessary changes, Congress acted on each such agreement. The Railroad Retirement Act replaced the failed private systems on various railroads and was the forerunner of the Social Security System. For your convenience, use the link to the Railroad Retirement Board's web page (www.rrb.gov) for information about benefits under the Railroad Retirement Act and the Railroad Unemployment Insurance Act. Contained in the Board's web page are informative bulletins on a variety of subjects generally in a question and answer form.
DEPARTMENT REPORT
Railroad, Mechanical and Engineering Department Report
The Railroad, Mechanical and Engineering Department is excited to relaunch the Department's Report in the Member's Journal.  This page is devoted to news for members belonging to the local unions and General Committees under this Department. Be sure to check future issues for the latest updates coming from the Department.
International Representative Charles Fraley Retires
On December 31, 2020, Charles (Charlie) J. Fraley retired as an International Representative for the SMART Railroad, Mechanical and Engineering Department. He was appointed to the position on October 1, 2004.  As an International Representative, he negotiated, interpreted and applied agreements covering wages, hours, health benefits and other conditions of employment and represented employees in all conferences, negotiations or other proceedings with management. He also appeared and represented employees before any tribunal authorized to consider or adjust claims arising out of the interpretation or application of such agreements.
Prior to accepting the position of International Representative, Brother Fraley was General Chairperson for the Sheet Metal Workers' International Association. He serviced the commuter railroads in the Northeast along with Amtrak, CSX, Norfolk Southern, Springfield Terminal and D&H Railroad.
He hired on Penn Central Railroad in November 1975 as a laborer. In June 1976, shortly after Conrail was created, he became a sheet metal worker. He was Local Chairperson/President of Local Union 398 for seventeen years prior to accepting a full-time position as General Chairperson.
During his time working for the railroad, Brother Fraley was Chairman of the Selkirk Safety Committee, Co-Chairman of the Selkirk Safety Committee, Chairman of the Conrail Labor & Management Program, Chairman of various Conrail Quality Improvement teams, Waste Water Treatment Plant Operator, and Environmental Specialist. He was a member of the NRAB on the Second Division and various RSAC committees.
Brother Fraley received a High School Diploma in 1975 from Colonie Central High School and completed the Waste Water Treatment Plant Operator classes at Hudson Valley Community College and AFL-CIO Organizing Institute.
The Department thanks Brother Fraley for his dedicated service to the membership and wishes him a long and well-deserved retirement.
In the interim, International Representative Larry Holbert will continue to work hard to assist the General Committees, locals, and members under the Department and ensure they receive the highest quality representation. Brother Holbert has 41 years of railroad service.
Brother Holbert started his career with Burlington Northern Railroad in August of 1979, working in the Maintenance of Way Department until October of 1989. He then transferred into the Railroad, Mechanical and Engineering Department as a sheet metal worker apprentice. On April 9, 1990, he completed his apprenticeship and became a journeyperson. In January of 1996, he was elected to the position of Local Chairperson for Local 259 in Alliance, Nebraska, and in October of 2006, he was elected as an Executive Board Member to the U.S. District Council of Railroads. In June of 2008, he was elected to the position of General Chairperson for the U.S. District Council of Railroads, and then in May of 2011, he became an International Representative for this Department. Brother Holbert served as an International Representative until his appointment as Department Director in September of 2011, and he worked in this position until October of 2012 after the passing of his son, Michael. He returned to the International Representative position at this time and is currently serving in this role.
Brother Holbert and his wife Theresa have been married for 35 years, and they have three children. Jeffery, their oldest, lives in Alliance, Nebraska working for BNSF RR as an engineer. Their second child, Michael, lived in Alliance, Nebraska and was an electrician for BNSF Railroad. Their third child, Sarah, also lives in Alliance along with their three grandchildren. Sarah is a secretary working at Trinidad Bean Company.
Department Director Tony Iannone retired at the end of June in 2020. As of July 2020, Assistant to the General President and Special Counsel Donna Silverman oversees the Department and works closely with the International Representatives to serve the membership.