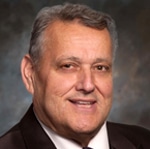 By Joe Nigro, 
SMART General President – 
The SMART General Executive Council met in Maryland the week of March 31 to April 4 to identify opportunities and challenges in developing a five-year plan to move SMART forward. Representatives from the Sheet Metal and Transportation Divisions participated in the strategic planning sessions facilitated by FMI consultants, who have worked with SMART in the past.
Officers and staff members delved into the challenges facing the organization and how it could combine its resources to advance the merger process. While SMART members in construction have suffered from the acute effects of the Great Recession on construction industry activity, members on the transportation side have been faced with the challenges posed by rival unions using cutthroat tactics to offer substandard services to our members.
One of the takeaways from our planning session was the need to re-examine the way we communicate within and outside SMART. I understand that the goal of jam-packed union meetings has become unrealistic in some cases, due to the pace of day-to-day schedules and the demands placed on all of us through work and family obligations.
That is why more and more people are connecting with each other online or through mobile communications. These avenues of communication are useful, but don't forget the value of face-to-face relationships offered through union meetings.
Seventy years ago, during the New Deal, there were more than 2,000 labor-related newspapers published in local communities throughout the United States. That number dwindled during the post-war era to a low today of just a few dozen that are regularly published.
In order to fill that gaping hole, numerous online and social media websites have risen to fill that gap. Several years ago, SMART expanded its online infrastructure to not only inform members of what is going on in their union and their industries, but also enabled members to talk to and communicate with one another and with their leadership.
As one union, we are only as strong as we make it by working together. Every idea and every contribution is valued, and an idea that may seem outlandish today might be the spark that ignites a fellow member somewhere else. I strongly encourage you to follow our social media sites on Twitter and Facebook (both listed on our homepage at smart-union.org) and subscribe to updates from the SMART Action Team (www.smartaction.org) in order to remain informed about the issues we need to address together in advancing our cause. I want you to say something if you know something that makes us stronger and smarter.
The key to the success of our efforts is having members fully informed and involved. As we prepare for the upcoming conventions of the SMART Transportation Division and SMART's General Convention, I want you to make sure you understand the provisions and proposed changes to the constitution.
I want you to be involved in selecting your delegates, who will be representing your interests in amending and adopting SMART's Constitution, which will guide our operations for the next five years. To help keep you up to date, please visit our website at smart-union.org for breaking news and other vital information for our members and their family.