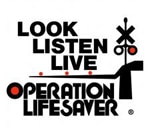 Sam Grayson, who co-founded the Operation Lifesaver program in 1972, died Nov. 2 at his Boise, Idaho, residence, Operation Lifesaver Inc. (OLI) announced last week. He was 93.
Grayson and Ed Schafer of Union Pacific Railroad, along with Idaho Peace Officers and then-Gov. Cecil Andrus, started Operation Lifesaver as a six-week public awareness demonstration program in Idaho. After the state's grade crossing-related fatalities fell that year by 43 percent, the program began to spread nationwide.
Read the complete story at Progressive Railroading.