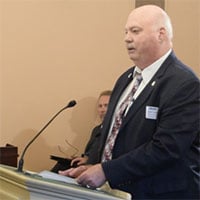 State Legislative Director Stu Gardner said that a hearing for opponents of H.B. 186 to appear before the Ohio House Transportation and Public Safety Committee has been scheduled.
Opponents are scheduled to give testimony at 11 a.m. Tuesday, Oct. 22 in Ohio Statehouse Room 114 in Columbus.
The opponent hearing before the committee was delayed at carriers' request so that the carriers could bring in representatives from Washington, D.C., to testify and try to stop the bill's passage, Gardner reports.
"We need a group of our supporters to attend this hearing in order to show the committee members we believe in all phases of HB 186," Gardner said. "Let's fill that hearing room with our activism and presence."
H.B. 186 covers the following safety issues:
Two-person freight train crews
Proper walkways in railroad yard safety legislation
Railroad yard lighting safety legislation
Blocked crossings
Members representing SMART Transportation Division as well as representatives from the BLET provided more than two hours of proponent testimony last month to show state House Transportation and Public Safety committee members why the railroad safety legislation is deserving of their support.
Gardner suggests that Ohio members either call the offices or set up in-person meetings with members of the committee who are listed below.
Chairman:
Doug Green HD 66 (Mount Orab)
Phone: (614) 644-6034
Home Address: 708 S. High St., Mt. Orab, OH 45154
Vice Chairman:
Riordan T. McClain HD 87 (Upper Sandusky)
Phone: (614) 644-6265
Home Address: 469 N. 5th St., Upper Sandusky, OH 43351
Ranking Member:
Michael Sheehy HD 46 (Oregon)
Phone: (614) 466-1418
Home Address: 1129 Schmidlin Rd., Oregon, OH 43616
Juanita Brent HD 12 (Cleveland)
Phone: (614) 466-1408
Home Address: 16804 Glendale Ave., Cleveland, OH 44128
James M. Hoops HD 81 (Napoleon)
Phone: (614) 466-3760
Home Address: 195 Old Creek Dr., Napoleon, OH 43545
Stephanie Howse HD 11 (Cleveland)
Phone: (614) 466-1414
Home Address: 1220 Spring Rd., Cleveland, OH 44109
Don Jones HD 95 (Freeport)
Phone: (614) 644-8728
Home Address: 34755 Jones Rd., Freeport, OH 43973
Jeff LaRe HD 77 (Violet Twp.)
Phone: (614) 466-8100
Michele Lepore-Hagan HD 58 (Youngstown)
Phone: (614) 466-9435
Home Address: 562 Madera Ave., Youngstown, OH 44504
Susan Manchester HD 84 (Lakeview)
Phone: (614) 466-6344
(419) 303-2670
Home Address: 29249 St. Rt. 385, Lakeview, OH 43331
Gayle Manning HD 55 (North Ridgeville)
Phone: (614) 644-5076
Home Address: 9436 Foxboro Dr., North Ridgeville, OH 44039
Jessica Miranda, HD 28 (Forest Park)
Phone: (614) 466-8120
(513) 266-3937
Home Address: 11511 Oxfordshire Ln., Cincinnati, OH 45240
Michael J. O'Brien HD 64 (Warren)
Phone: (614) 466-5358
(330) 727-1097
Home Address: 1849 Edgewood St. NE, Warren, OH 44483
Thomas Patton HD 7 (Strongsville)
Phone: (614) 466-4895
Home Address: 17157 Rabbit Run Dr., Strongsville, OH 44136
Reggie Stoltzfus HD 50 (Minerva)
Phone: (614) 466-9078
(330) 936-6001
Home Address: 13789 Telpahak St SE, Minerva, OH 44657
The bill is sponsored by Ohio Reps. Mike Sheehy, a retired rail worker and member of the SMART TD Alumni Association, and Brent Hillyer.

---
See these related stories from SMART TD: