2020 calendar photo submission deadline Friday, Sept. 20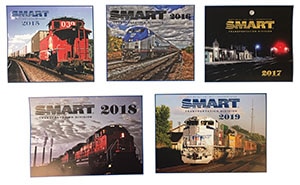 SMART Transportation Division is seeking quality railroad, bus and airline photos taken by members for placement in the annual SMART TD Alumni Association calendar and for other uses. We are especially looking for photos from our bus members!
High-resolution horizontal digital photographs should be emailed to news_td@smart-union.org. Printed photographs should be mailed to SMART TD News, 24950 Country Club Blvd., Suite 340, North Olmsted, OH 44070.
To be considered for the 2020 calendar, photos must be received by 5 p.m. Friday, Sept. 20. Be sure to include the photographer's name and local number, the name(s) of the person(s) featured in the photograph (left to right) and any other pertinent information, such as the date and location where the photograph was taken. If your photo is chosen for inclusion in the calendar, you will receive some copies for your own personal use.
Due to federal or state regulations, or company restrictions on employees' use of personal electronic devices, including cameras, on company property or while on duty, all members are advised to never take photos while on duty and to only take photos from a clear point of safety and in compliance with all applicable company rules. All photographs submitted become property of SMART Transportation Division.