Tens Of Thousands Turn Out For Anti-RTW March & Rally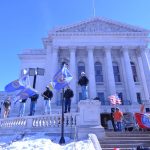 Tens of thousands of union members and supporters turned out for a massive rally in the Wisconsin state capital of Madison on Saturday February 28th.  Among them were hundreds of SMART members and family members who will be effected by the Wisconsin GOP's attack on organized labor.
After stating numerous times that he had no intention of considering right to work (for less) legislation, Scott Walker indicated in late February that he would sign a right to work bill once it came to his desk.  At and appearance at CPAC (the Conservative Political Action Committee) on February 26, Walker not only iterated that he would sign the bill, but also bragged about his role in turning Wisconsin into what is expected to become the 25th right work state in America.