Take a moment to learn about Labor Day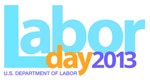 Labor Day, the first Monday in September, is a creation of the labor movement and is dedicated to the social and economic achievements of American workers. It constitutes a yearly national tribute to the contributions workers have made to the strength, prosperity, and well-being of our country.
In 1894, in an effort to conciliate organized labor after the Pullman Strike, President Grover Cleveland and Congress designated Labor Day as a federal holiday. Legislation for the holiday was pushed through Congress six days after the strike ended. Samuel Gompers, who had sided with the federal government in its effort to end the strike by the American Railway Union.
To learn more about the history of Labor Day, visit the Department of Labor's "The History of Labor Day."