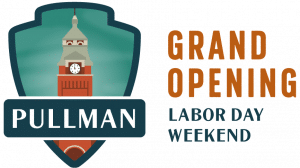 The Pullman neighborhood in Chicago will be abuzz on Labor Day weekend 2021 for the grand opening of the Pullman National Monument Visitor Center and Pullman State Historic Site Factory Grounds. Pullman has been preparing for this moment for decades, and in earnest since President Barack Obama designated the Pullman National Monument in February 2015.
The public is welcome for a weekend of family friendly events on Saturday, Sept. 4, 10 a.m. to 6 p.m., and Sunday, Sept. 5, 9 a.m. to 4 p.m., including:
tours of the new visitor center (free)
tours of the first floor of historic Hotel Florence (free)
programs under the tent at the factory site (free)
walking tours and self-guided tours of the historic community (free)
tours of historic Pullman-built rail cars, sponsored by Amtrak, Metra and the American Association of Private Railroad Car Owners
car caravan, live music and more (free)
The Pullman National Monument and State Historic site is at 11001 S. Cottage Grove Ave., Chicago, IL 60628, the site of the former Pullman company town. The town was the vision of George M. Pullman, who founded it May 26, 1880. Pullman hoped that by building the town, he would attract skilled workers to build his luxury rail cars – known as the Pullman Sleeping Car, they were the first railcars in existence designed to accommodate overnight travelers.
Guests of the Pullman historic sites will find an exhibit chronicling the rise of the town and its role in labor history and the 1894 Pullman strike endorsed by labor leader Eugene Debs, a former secretary of one of SMART-TD's predecessor unions, as well as the struggles of the black Pullman porters who formed the nation's first black labor union – the Brotherhood of Sleeping Car Porters.
Visit this link to learn more about the Historic Pullman Foundation and the weekend's planned activities. Follow this link to follow the foundation on Facebook.
The events this weekend are being managed by the Historic Pullman Foundation, which is led by former Federal Railroad Administration Administrator and retired UTU Illinois State Legislative Director Joseph C. Szabo, the president of the foundation.
"Historic Pullman Foundation is thrilled to help welcome the public to Pullman National Monument and Pullman State Historic Site, an incredible new cultural attraction in Chicago," said Szabo. "On Labor Day weekend and through ongoing programming and exhibits at the Monument and its partner sites, visitors to Pullman have many opportunities to learn about the continuing American story that is Pullman."