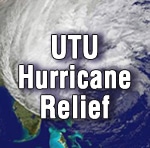 In the wake of Hurricane Sandy, which devastated families in the Northeast, we again are reminded we are a nation of one people.
Just as we see President Obama, a Democrat, and New Jersey Gov. Chris Christie, a Republican, working together to address the needs of those suffering, UTU members can collectively do our part by helping our brothers and sisters as we have in past disasters.
Hurricane Sandy caused significant property damage and loss to scores of UTU members in the Northeast, and we are soliciting donations in order that funds are available to assist our struggling brothers and sisters get back on their feet.
We encourage all UTU members, locals, general committees, and state legislative boards to give generously to help our brothers and sisters in need.
The UTU disaster relief account was established in 2005 to aid our brothers and sisters in the wake of Hurricane Katrina, and has retained that identity as a reminder that we can all do something to lessen the pain and suffering of others.
Contributions should be sent to:
Hurricane Katrina Relief Fund
United Transportation Union
Attn: Cheryl Sneed
Suite 340
24950 Country Club Blvd.
North Olmsted, OH 44070-5333
Current contributors include:
GO 225 (M. Reedy)
Texas State Legislative Board (C. English)
Kim N. Thompson (General Secretary & Treasurer)
Freda Wyckoff & Douglas Devasher (retired, L-1813)
Blalock & Blalock (Designated Legal Counsel)
Joseph Boda (retired, L-1928)
Nebraska State Legislative Board (B. Borgeson)
Norbert & Patricia Shacklette (retired, L-1823)
Todd Kester (Local Chairperson, L-324)
GO 769 (D. Sampson)
UTUIA Unit 1
Gillian Turner
Rabb & Beal (Designated Legal Counsel)
Art Rayner (UTUIA Field Supervisor, L-1374)
Local 1908, Buffalo, N.Y.
Charles Skidmore (UTUIA Field Supervisor, L-204)
James Stem (National Legislative director)
Patrick Reilly (General Chairperson)
Guy Frederick (L-225)
Local 781, Shreveport, La.
Iowa State Legislative Board (Garrett)
Illinois State Legislative Board (R. Guy)
Local 313, Grand Rapids, Mich.
Manuel Villalobos (retired, L-113)
Local 1136, Sterling, Col.
Mark Archibald (Local Chairperson, L-166)
GO-898  (M. Cook)
Local 1525, Carbondale, Ill.
Bernie Moran-Zarefoss (UTU employee)
Roger Field (L-171)
Petro Law Firm (Designated Legal Counsel)
William Thompson (Former Ohio State Legislative Director, retired)
GO-569 (C. A. Nowlin)
GO-927 (T. Johnson)
Oklahoma State Legislative Board (D. Scholle)
Missouri State Legislative Board (K. Menges)
Roy Neslund (retired, L-1365)
John Risch (Alternate National Legislative Director)
Local 311, La Crosse, Wis.
Local 597, Des Plaines, Ill.
Mark Schroeder (L-1402)
UTUIA
Local 1402, Dupo, Ill.
Thomas Krohn (L-1433)
M. B. Futhey, Jr. (President, SMART Transportation Division)
Kathy Morfier, Bellevue, Ohio
Local 243, Fort Worth, Texas