On February 28, 2018, Ron Batory was sworn in as Administrator of the Federal Railroad Administration. Representing SMART General President Joe Sellers is Steve Dodd, director of government affairs, who is pictured with Ron Batory.
Batory has more than 45 years of rail industry experience and most recently served as president and chief operating officer of Conrail. Batory joined the company in 1998 as vice president-operations and was appointed COO in 2004. He retired from Conrail last year.
Before that, he was president of the Belt Railway Co. of Chicago. Batory also spent more than 20 years working for both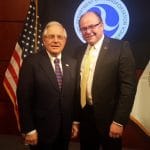 eastern and western Class Is, in addition to assisting a court-appointed trustee's oversight of a regional railroad bankruptcy.
According to GP Sellers, "We are pleased to have Ron Batory as the administrator of the Federal Railroad Administration (FRA)."  He added that, "Ron Batory is knowledgeable and experienced in the railroad industry. We look forward to collaborating with him on PTC and other safety initiatives."