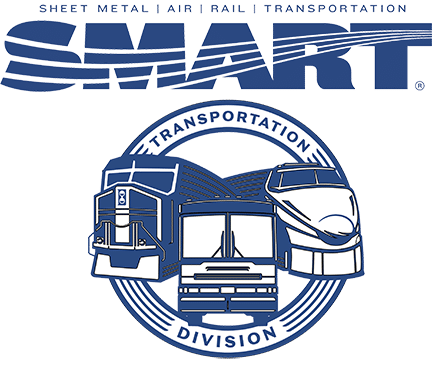 CLEVELAND, Ohio (July 1, 2021) — SMART Transportation Division leaders expressed their appreciation as the Investing in a New Vision for the Environment and Surface Transportation (INVEST) in America Act (H.R. 3684) successfully passed out of the U.S. House of Representatives, 221-201, on July 1 with two-person crew and other transportation safety provisions important to TD members remaining intact.
"This bill is a great step ahead for the country as it works to repair years of inattention given to the country's infrastructure," SMART Transportation Division President Jeremy R. Ferguson said. "The INVEST Act also pays heed to many safety concerns expressed by labor — the essential workers who helped move our nation through the COVID pandemic — bus operators, freight rail workers and transit workers. We thank Peter DeFazio, Donald Payne and all those in the House Transportation and Infrastructure Committee who spurred H.R. 3684 to passage in the full House, and we now look ahead to consideration in the Senate and beyond."
The INVEST Act is a surface transportation reauthorization bill that encompasses substantial investment in the nation's infrastructure as well as in the safety of the people who keep the country moving. H.R. 3684's components look to protect bus and transit workers from assault, improve school bus safety and maintain safe freight rail operations. It contains increased funding for Amtrak passenger rail service and protects the environment, the public and rail workers alike by putting into law the Rule of 2 — that, like a pilot and co-pilot in the air — a certified engineer and a certified conductor remain present in the cab of freight trains when operated through the nation's communities.
"We're very pleased that the House has wisely moved ahead today on the legislative path to ensuring that rail safety's Rule of 2 is maintained with the INVEST in America Act, and that the bus safety provisions, Amtrak funding and other rail safety components stay in the bill," SMART-TD National Legislative Director Greg Hynes said. "Now, similar to last year, the time has come to make it crystal clear to senators who might be on the fence that the safety aspects within this bill are not up for negotiation."
"We truly thank and appreciate those legislators who supported the INVEST Act in its journey through the House and who listened to what we had to say," Ferguson said. "There is more work to be done and a path to be cleared for this legislation in the Senate, and the members and officers of our union are ready to put in the time."
###
The SMART Transportation Division is comprised of approximately 125,000 active and retired members of the former United Transportation Union, who work in a variety of different crafts, including as bus and commuter rail operators, in the transportation industry.