SMART TD Press Release: FRA issues notice of proposed rulemaking requiring two-person crews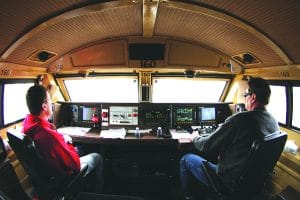 WASHINGTON –Today the Federal Railroad Administration (FRA) published a proposed rule that sets forth the requirements and exceptions for a minimum crew of at least two people on America's trains. The proposed rule is a major step forward in SMART Transportation Division's campaign to bring about this critical rail safety reform. Requiring a minimum of two crew members on trains not only makes it safer for those who work on the railroads, but it also helps to protect people in communities where trains travel.
SMART TD supports the core requirements and will file comments during the comment period to further improve the proposed rule. John Previsich, SMART Transportation Division President, said: "We thank Secretary Foxx and Administrator Feinberg for tackling this difficult issue and look forward to working with them to improve the proposed rule. Our view is that one-person operations are unsafe under any circumstances and we believe issuing this proposed rule is a critical first step in helping to ensure that our nation's trains are operated fully staffed with two qualified crew members. Airplanes are not allowed to fly with just one pilot, and for sound safety reasons trains, many hauling hazardous materials – should be no different. The check, double check and extra set of eyes and ears watching both sides of the train and the division of tasks are safety measures that cannot be replaced by rules or technology."
National polling shows that a requirement for two-person crews has overwhelming support on both sides of the political aisle, as more than 80% of those polled in both red and blue regions of the country are in favor of a two-person crew mandate. John Risch, SMART Transportation Division National Legislative Director, also responded to the proposed rule: "FRA professionals who know and understand rail operations recognize how important it is to have a minimum of two crew members on trains for a host of safety reasons. DOT studies also bear this out.  We will work to improve this rule by making the case for a final rule that makes it extremely rare for railroads to run single-person operations. While this regulatory effort is critical  we also call on Congress to pass H.R. 1763, the Safe Freight Act, which would require that all freight trains are operated by a crew of at least two individuals – a certified conductor and a certified engineer."
The SMART Transportation Division is comprised of approximately 125,000 active and retired members of the former United Transportation Union, who work in a variety of crafts in the transportation industry.
Contact: John Risch
jrisch@smart-union.org 202-543-7714