Sheet Metal Members Exceed Expectations At The TVA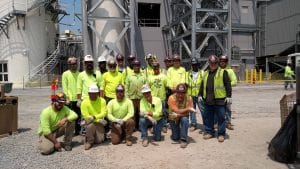 In the fall of 2013 the face of the Tennessee Valley Authority's (TVA) Gallatin, Tennessee, fossil fuel facility began to change. The reason? An upcoming $1.1 billion investment in emissions reduction as part of the TVA's Clean Air Project.
The TVA has one of the most aggressive emissions control programs in the country. Their efforts have brought about reductions in sulphur dioxide and nitrogen oxide emissions in their power plants—reductions in the range of 90 percent and more.
TVA tapped the skilled members of SMART Local 177 in Nashville to serve a major role in making the TVA Clean Air Project expansion happen. Brand Insulation, headquartered in Kennesaw, Georgia, was awarded the contract for insulation and lagging on the duct and scrubbers at Gallatin.
These Local 177 sheet metal workers are building work hours at the TVA that reflect our union's long history in this area. Local 177 members are installing the lagging, sub-girt, stand-offs and insulation on-site. The work firmly reinforces our historic jurisdiction, which that we intend to preserve for future generations.
The project not only provided man hours for the members of Local 177 but also for some of our traveling brothers and sisters that were needed to round out the manpower demands.
At one point there were more than 80 sheet metal workers on the site, representing SMART Locals 177, 4, 5, 33,40,46, 48, 73, 88, 214 and 218 while exhibiting insulation and lagging skills that are second to none. The members who traveled to the work from other locals are taking advantage of their SMART membership by utilizing our union's Job Bank for referrals nationwide.
According to Local 177 Business Manager Tony Easley, "There have been many long hours on the job, but at the end of the day we have shown the TVA and their contractors, AECOM (formerly URS) and Enerfab that we have the training, skills, work ethic and resources to complete this work in a safe and timely manner."