New Construction Starts Rise In 2015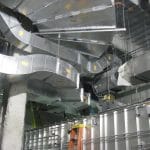 New construction starts in the month of February grew by 16 percent over the previous month due to some large scale projects that took off in Texas, Louisiana and California.  According to Dodge Data and Analytics, total construction starts on an unadjusted basis were up 34% from the same two month period that started 2014.  The $724 billion in new work is expected to serve as a boost to a construction industry that have limped through the years following the 2008 recession.
The three projects include an $8.4 billion liquefied natural gas (LNG) export terminal in Louisiana and a $1.2 billion solar power facility in California.  A $3 billion petrochemical plant in Texas rounds out the list of major projects that came online in February and make be serving as an omen to what is expected to be a year that will see a surge in new construction.