Local 66 Teams Up With Girl Scouts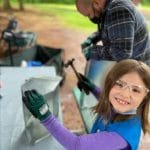 SMART SM Local 66 (Washington State) member Johnny Cassanova joined his daughter Olivia's Girl Scout of America troop to give them a presentation about the sheet metal industry.
SJ Alexander and Vanessa Carman from Local 66 came out to teach the young girls about math and sheet metal, while helping them earn their "STEM" badge.
Working with toothpicks and marshmallows the troop built 3D shapes and were explained how math and geometry is used in sheet metal trades. They ended their event by building a set of dad and daughter toolboxes. The scout leader let them know that this was an inspiring event for these young girls who had not been introduced to the trades before.
According to Carman, "we hope to continue to introduce young women to a fulfilling career in sheet metal, as we look to pass down what we've learned to a new generation of sheet metal workers."  She added that "to be successful at outreach, it's important to introduce the trade to children when they are young and include it in their aspirations for a future career."