Local 20 welcomes longtime Indiana contractor

Commercial Air Inc. (CAI) is and has been a staple in the Indianapolis and Lafayette areas of Indiana for 40 years. Founded by Tim Gatewood in 1981, the company has been primarily focused on HVAC systems for government facilities, K–12 schools and colleges and universities.
By the mid 1990s, the company had increased its workload and had eight full-time employees. And when the 2000's came, CAI experienced a boom in business. Infrastructure was added to accommodate the increased workload and expand the company's sheet metal capabilities, including plasma tables, roll formers, a coil line, a Whisper-Loc and most recently a Laser-Max 1.5KW from Lockformer. CAI was also early to embrace BIM technology and the use of Trimble's Total Station. These improvements have enabled CAI to substantially increase its capacity, workload and productivity.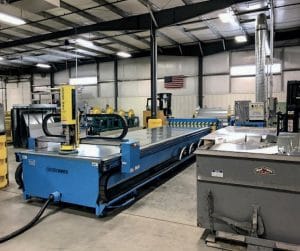 Tim's son Chris has been a part of the company through high school and college. Recently, Chris took over control of the day-today operations of the company. SMART Local 20 reached out to him about the opportunities CAI could have in a partnership with the union and how the company could grow to the next level. After a few meetings with Local 20 agents, Chris decided a partnership would be the best way for CAI to grow going forward. An agreement was made — effective January 1, 2021 — bringing CAI and its 34 sheet metal workers into the union.
Immediately, Local 20 was able to send eight members to CAI to satisfy the company's workforce needs as it continues to grow.
"We could not be more pleased to welcome Commercial Air Inc. to our local," said Local 20 Business Manager and 9th General Vice President Scott Parks. "And we are even more excited about the future with CAI being signatory."