GP Nigro: A United Constitution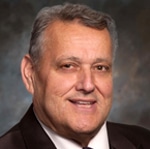 Change is hard and for many it is difficult to accept. Change is not an event with an exact start and stop point; it's a process. Each step you make, even if it's a relatively small step, is still a step in the right direction, driving you closer to where you want to go. Sometimes the road ahead looks hazy and your footing may be unsure, but it is ludicrous to turn back when seeking out a destination— no matter how distant your destination may seem at times.
The changes we face now focus not just on the SMART Constitution which governs our combined organization, but also on the culture in which we operate. How this organization is run goes a long way in ensuring that it always serves the membership with integrity. Members cannot have confidence in an organization unless they are assured they have a voice in it. That is why, for those of you that know me, I try to adhere to as much transparency as possible, so that you as a member are kept both wellinformed and able to hold your leadership accountable.
SMART does not operate for the sake of its leaders. The leadership of this organization exists to represent all of us with integrity, honesty and to the best of our abilities.
It takes a lot of courage to move away from the security that comes with the way things had always been done before. But there is no real security in what no longer works to strengthen and advance this new union. The strength of SMART, and what will drive us to thrive in the future, comes from our ability to maintain the advances previous generations made and to build upon them. We deal with political, economic, and cultural challenges from all sides as our world changes every day. Sometimes we must adapt and change with it while staying true to the guiding principles of solidarity, strong representation and brotherhood that gave rise to our labor movement.
As you may already know, we recently completed our new Constitution, merging the former Sheet Metal Workers' International Association and the United Transportation Union into SMART. While our merger has been complete for some time, this document unifies this great union and its members under a single Constitution.
In getting to this point, we examined and debated every constitutional section thoroughly before reaching agreement. At times, it required the help of an outside arbitrator to clarify a particular issue. While this slowed the process, it must be remembered the parties were tasked with combining 100 years of separate cultures and operations into a single Constitution that would govern our combined union while reflecting the practices and policies of both former organizations.
While the process may at times have been slow and laborious, we remain dedicated to working together to represent the best interests of members above all else.
An example of this is in the SMART General Executive Council (GEC) which is comprised of both sheet metal and transportation division General Vice Presidents. The GEC represents our diverse geographic, trade and work-related membership and acts as a check in many of the authorities assigned to the General President. Among these is the GEC's Finance Committee which reviews the overall expenditures of the International Association including all personal expenditures of the General President and General Secretary-Treasurer. This sub-committee of the GEC also reviews the annual budget of the International including a separation of expenses by each department within the organization and makes recommendations to the full GEC who must approve the budget. This among many other oversight duties ensures accountability to the membership across all levels of the organization both now and in the future.
I urge all of you to view the SMART Constitution at www. smart-union.org/our-union/smartconstitution. Keep in mind that changes were made to the former UTU Constitution, now Article 21B of the SMART Constitution, where language within and the merger agreement dictated changes to comply with the SMWIA Constitution. In the near future we will also be posting a Frequently Asked Questions (FAQ) page to answer any questions about the new Constitution and upcoming SMART Transportation Division Convention in June and the SMART General Convention in August 2014.
It's been a long and difficult process, and you deserve our gratitude for your patience. I look forward to moving our Union ahead united and stronger.
Fraternally,
Joseph J Nigro
General President