Express Scripts/Medco's packaging may change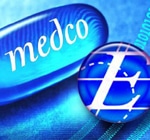 Members who receive prescription medications through Express Scripts/Medco's home-delivery pharmacy service may notice a change to their prescription bottle and its packaging beginning May 1.
For those who are unaware, the companies merged last year.
Members may notice different colors of prescription bottles – Express Scripts prescription bottles are orange and Medco bottles are white. Medication may also be dispensed in the manufacturer's packaging instead of a prescription bottle.
Also, while the content on the prescription packaging labels is the same, the prescription labels may have a different type style and layout.
The changes are due to the location from which your prescription is being sent. You may now get your prescription from an Express Scripts Pharmacy or from a Medco Pharmacy, depending on factors including weather, supply, or proximity of the pharmacy to your home.
Express Scripts is now shipping from both Express Scripts and Medco pharmacies, so you may notice some changes to the color, shape and cap of your prescription bottle and the packaging it's shipped in. There are no changes to your medications and they are being filled and shipped as safely and accurately as they always have.
Packaging for temperature-sensitive prescriptions may be different based on the pharmacy that it was shipped from, but all packaging meets the temperature requirements for safely shipping your medication.
Be assured that your medications will still undergo the same rigorous processes for safety and accuracy.