Certified Welders Are In Demand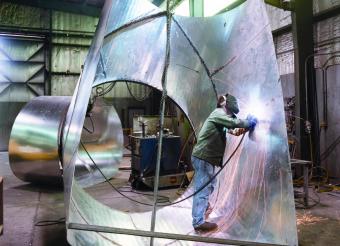 The anticipated demand for skilled, certified welders in the U.S. in the next five years is staggering. The American Welding Society projects that by 2020 there will be a deficit of 290,000 skilled welders, which includes instructors, inspectors, and engineers. The opportunities for skilled craftsmen will be there, but will you be ready?
"We are looking at a deficit, as the average age of welders is around 55," said Steve Kowats, who runs the International Training Institute's South East Concentrated Welding Program. "We expect the demand for new certified welders to grow because of attrition and because of expanded work opportunities in the energy sector."
Kowats has been working with JATCs around the country to help train members and trainers to fill the demand. "The demand is there, and we have the infrastructure in place. Now, we need our members to realize that if they get these certifications the opportunities are endless."
"Our craft is not traditionally thought of as a welding craft," says Kowats. "We need to change that perception. If we don't, we're giving up the chance to do the work. And ultimately, the work could go to a non-union contractor if we don't step up."
As the energy boom takes hold, welders are needed at sites like Plant Vogtle, located near Waynesboro in eastern Georgia near the South Carolina border. The plant is one of Georgia Power's two nuclear facilities. Kowats and Sheet Metal Local 85 are placing members trained through the Concentrated Welding Program at Vogtle. The program is designed to run six days a week, ten hours a day, over a three-week period, but can be modified to fit a local's schedule. The participants learn how to properly weld pipe, sheet, and plate and are, when done, prepared to pass multiple welding certifications.
"But they don't just have to pass the welding tests. Applicants at these energy plants need to be prepared to pass stringent background checks and general education tests," Kowats warns. "It isn't just about having the welding skills necessary to do the job. A lot of these positions require federal security clearance."